more news
Acclaimed screenwriter shares his craft with cinema students
Saturday, January 29, 2011
Rick Hawkins brings 30 years of industry experience to teaching role at Point Park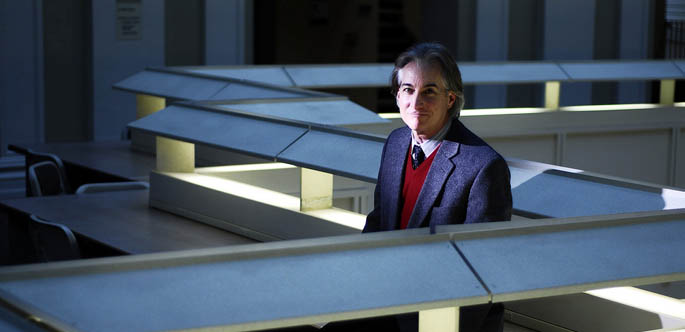 For more than 30 years, television has been reality for Rick Hawkins. A highly successful and Emmy-winning television screenwriter, Hawkins has also been a studio executive, producer and media consultant in Los Angeles and internationally. Now, he has brought that long career of industry experience to Point Park as an artist-in-residence teaching screenwriting in the Department of Cinema Arts.
"I have done guest lecturing, held workshops at UCLA and USC and various other universities, but this is my first experience as a full-time faculty member," says Hawkins.
"The cinema department is really dedicated to ensuring that students have been exposed to all the positions that make up a film set or television crew set, " he says. "It takes an army to make a film and you need to learn how to communicate and share your vision and to cooperate creatively with a team of people. That's something we start in their freshman year."
Hawkins is well prepared to teach students the industry ropes. Before he even finished college, he was offered a writing job on "The Carol Burnett Show," where he holds the honor of creating the longest sustained laugh in television history for "Went With the Wind" - his 20-minute condensed version of the four-hour movie "Gone With the Wind."
He wrote the movie of the week that became the pilot for "The Love Boat" TV series, and wrote and produced "Punky Brewster," the first prime time series geared for children. In addition, Hawkins was executive producer and head writer on "Sister, Sister" (still in syndication on the Disney Channel) and wrote for the Showtime drama series "Soul Food." Drama, variety, comedy - Hawkins has expertise in just about every form of scripted series.
Because of his extensive background, Hawkins was hired by Sony International in 2005 to move to Moscow and help newly created Russian networks develop television series. He was in Russia for three years, where he discovered that "good stories are good stories, good jokes are good jokes, no matter where you are in the world," explains Hawkins.
Just a few of the shows Hawkins helped to adapt for Russian audiences were "Married With Children," "Ugly Betty," "Who's the Boss" and "Everybody Loves Raymond."
When Hawkins moved back to the United States, he visited his Top 10 list of cities he would be interested in calling home base -- Pittsburgh won, hands down. He was still working for Sony and traveling internationally when he attended a local fundraiser and someone mentioned Point Park. He had attended a production at The Pittsburgh Playhouse, Point Park's performing arts venue, and raved that it was "as good as anything that I've seen in New York."
He heard Point Park had an opening in cinema and digital arts, part of the University's Conservatory of Performing Arts.
"I met with them," Hawkins recalls, "and the next thing I knew I called Sony and told them I'm not going to be able to work for you internationally anymore, and I started teaching."
"Hawkins has a career that gives insight into the business, especially in television," says Nelson Chipman, assistant professor and department chair in cinema and digital arts. "Additionally, he is an individual of boundless energy. … He comes into the department everyday enthused, ready to help students improve their stories, refine their voices as storytellers and writers."
It's that enthusiasm and experience that won over Nick Marro, a senior cinema and digital arts major with a concentration in screenwriting from Rochester, N.Y.
"Rick has tons of industry experience in helping people to shape their stories and he knows the correct ways to give comments on the piece itself, not making you feel little," says Marro. "He lets it stay your piece. You really feel like you both contribute to the new places you might be taking the script."
Marro knows graduates who have sent Hawkins their scripts, "and he's still willing to send notes or occasionally meet with people just to help them improve what they're working on," he says. "If he feels you have something that's really worth pursuing, he's going to help you out."
"I still have quite a few contacts in Hollywood," says Hawkins. "One of the things that I can do to be helpful is to bring in people or have them in class via Skype, to have [students] make contact with other professionals."
Dana Gasperine, a junior transfer student who took Intermediate Screenwriting in Spring 2010, is grateful for the insights Hawkins provides about the business of being a screenwriter.
"Rick does his best to help you know what to do with your script after you're done writing it. He teaches us how to pitch a script - something that you wouldn't expect to learn in a screenwriting class - before we go and write it."
Hawkins continues to write as well.
"I just recently created and sold an original series to Russian television. It's a science fiction-romantic comedy called "Venus Bound" about an alien life force sent to study human beings." The alien accidentally crashes into a flower shop and inhabits a Venus flytrap instead of a human being. He befriends, and falls in love with, the young widow who works there, and the story goes from there.
"I'm the head writer, and I will be writing all the storylines for all 60 episodes," Hawkins explains. He's hoping to go to Russia in summer 2011 to help put the production together.
Hawkins says that he "was born under a lucky star. I have just had a blessed life and I appreciate every second of it."