more news
Acting Alumnus Amadeo Fusca Roasts Comedian Jack Black
Friday, April 26, 2013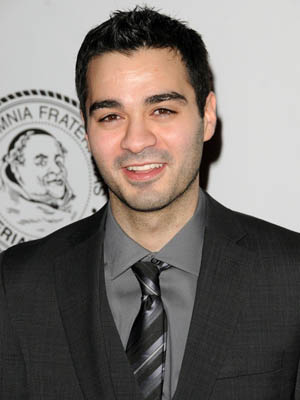 2009 acting alumnus Amadeo Fusca won the So You Think You Can Roast national online talent contest, awarding him the opportunity to roast comedian Jack Black at the Friars Club in New York City. On April 5, he joined the stage with comedians Jeff Ross, Sarah Silverman, Ben Stiller, John Cusack and others.
Meet Amadeo Fusca
Job title: Tour guide for On Location Tours
Major and degree earned: B.A. in acting, 2009
Hometown: Churchill, Pa.
Now living in: New York City
High School: Woodland Hills High School
Hobbies/interests: Improv, pool, ping pong, cards, movies
Why did you choose to attend Point Park?
I moved to Los Angeles after high school to live with my brother and naively tried to begin my acting career. My mom insisted that I go to a university, so I moved back to Pittsburgh and applied to Point Park. I only wanted to do acting if I went to school, and Point Park's program had an excellent reputation.
How did you prepare to roast Jack Black?
I collaborated with my writing partner Mike Smith. We bounced ideas off each other and he mainly creates most of the punchlines, if not all. I test it out on my tour bus, on very close friends and my brothers. I then put the entire act into a script which I memorize (I do not use paper at the podium when roasting) and rehearse it about 50 times prior to the roast.
What was it like having the opportunity to roast Jack Black in front of celebrities?
It was exhilarating and at times very nerve-racking. The event sat 1,800 people, but it wasn't the crowd that worried me as much as the enormous celebrity panel that was my job to poke fun at. Even though my set went very well, it was intimidating at times to look over at some of their faces while I was saying terrible things about them for the amusement of the crowd. However, I got to meet most of them briefly, and I'm confident that I will run into a lot of these people again and that I have made a very good impression on them.
What advice do you have for students considering a career in acting?
You have to love it, because the majority of chasing your dream is a constant struggle. There is no rhyme or reason to how things work. Put yourself out there, be nice to everybody and hope for the best. You have to love every minute of the highs and lows.
What was the most beneficial experience you had at Point Park?
Playing Romeo in Romeo & Juliet was a life-changing experience for me. I was so proud and honored to be given the role, that I wanted to make everybody proud in their decision and confidence in my abilities. I studied the role vigorously (in retrospect maybe too vigorously) and put my heart into the production.
What's next for you?
They made me a Friars Club member, so I have been attending a great deal of their events and mingling with that crowd, trying to solidify my connections there. I'm playing a supporting role in a feature film, A New York Heartbeat, and a couple of short films that I starred in and co-produced. Other than that, I have just been auditioning for everything and anything that comes my way.