more news
Acting Major Spends Summer as Cinderella
Wednesday, August 15, 2012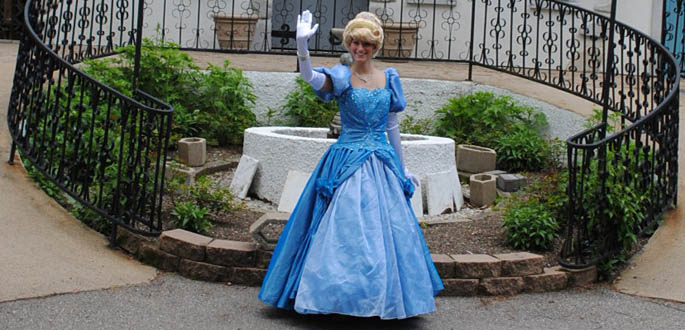 Meet Katherine Bodner
Summer job: Cinderella at Story Land Theme Park in Glen, N.H.
Major: Acting
Expected graduation: May 2014
College activities: I work as a campus tour guide as well as a stage manager for the Conservatory Theatre Company auditions.
Hobbies/interests: Throughout the course of this past school year I have found a new interest in directing. I am hoping to explore my abilities in this field during the upcoming school year.
Hometown: Pittsburgh, Pa.
Please provide an overview of your summer job.
I play the role of Cinderella six days a week. This includes meeting and greeting children in Cinderella's castle, having a tea party twice a day and closing the day with a dance party.
How have you applied what you've learned at Point Park to this experience?
I have incorporated the skills I have learned at Point Park by relying heavily on improvisational skills. I have also used my voice and speech training to create and maintain a princess voice. Because of the intense schedule I created for myself at Point Park, it has not been difficult to maintain stamina for my job.
What is your favorite part of this job?
My favorite thing about my job is being able to teach children small life lessons every day. For example, a little girl once asked me how to become a princess, and I responded by saying that one needs a kind heart and a passion for helping others to become a princess. In those small exchanges, I know that I am truly impacting a child's life and his or her view of the world.
Why did you choose Point Park for your undergraduate degree?
I chose to attend Point Park for the reputable Conservatory of Performing Arts program, well-rounded education, and ability to participate in all facets of the conservatory. I knew that I wanted to explore film, acting and stay fit by taking a few dance classes, and Point Park offered me exactly what I needed.
Why is your major a good fit for you?
My major is a good fit for me because I have always loved performing since I was a child. I enjoy learning and delving into the different styles of theatre. It excites me to find the hidden meanings behind plays and monologues. Theatre, to me, is a way to explore life, the world and myself.
Anything else you would like to add?
Aside from being a princess six days a week, I have had the privilege of exploring the beautiful nature in New Hampshire. Hiking is a new hobby that I will maintain when I return home. I was able to hike to the top of Mount Washington; that is an accomplishment I will always remember. This summer has been incredibly revitalizing for me as a person.
Photo by RWS and Associates