more news
Acting Major Spends Summer as Williamstown Theatre Festival Apprentice
Monday, August 27, 2012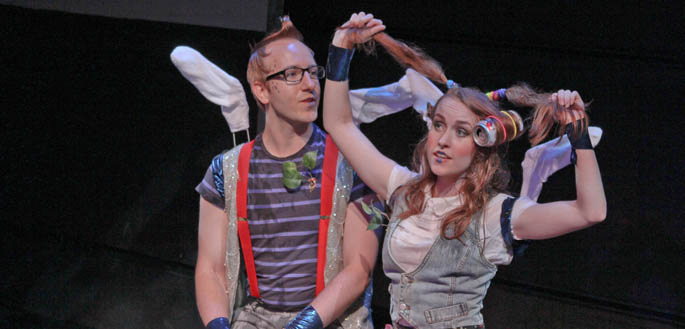 Acting major Rebecca Knowles performs in "Time Flies" during her apprenticeship.
Meet Rebecca Knowles
Major: Acting
Minor: Musical Theatre
Apprenticeship: Williamstown Theatre Festival, Williamstown, Mass.
Expected graduation: Spring 2013
Hometown: Medfield, Mass.
Please provide an overview of your apprenticeship.
This summer I worked as an acting apprentice at the Williamstown Theatre Festival. Some of the highlights of my apprenticeship included building set pieces at the scene shop, taking classes in Shakespeare and Improv, attending performances and readings, and taking master classes with Equity performers.
How have you incorporated the skills you've learned at Point Park during this apprenticeship?
This experience taught me the importance of being a smart actor. I was better able to understand and appreciate all of the different tasks and intricacies that play an important role in putting a performance together. There were many instances when I thought back to specific advice I had received from my teachers. The training I've received equipped me with a strong skill set and it taught me the power of storytelling and imagination, which really helped me to dive into whatever task or crew assignment was given to me.
Why did you choose to attend Point Park?
I knew the education and training I would receive at Point Park would provide me with the necessary skills to pursue acting as my career. The size of the school was appealing, and I wanted to live in a city. I loved the idea that my teachers would be industry professionals, and that I would have the opportunity to audition for outside productions as well as the Conservatory season productions.
What was one of your favorite experiences during the apprenticeship?
There have been so many incredible opportunities through this apprenticeship, but I think the most valuable part of this apprenticeship has been experiencing all sides of the business. I've gained a better understanding of the successes and obstacles my career will have, and I still feel just as passionate about acting as ever, which solidifies my career choice in my mind even more.
In what ways will this apprenticeship help you with your career goals?
I learned so much about the business of acting and met so many great people, that I know this opportunity will continue to help and inspire me in my career.
Photo by Steven Koernig