more news
Alumni Dancers Teach in Suriname
Thursday, February 7, 2013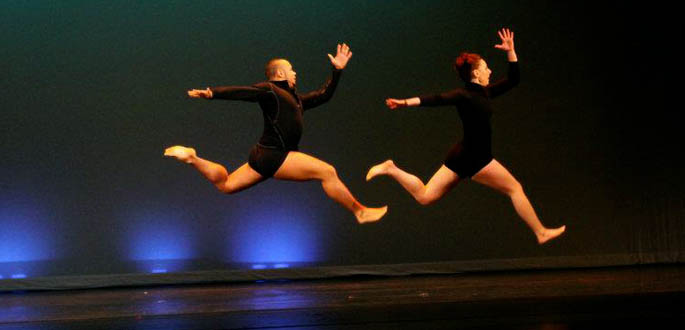 Dance alumni James A. Washington and Annalee Traylor perform with the August Wilson Center Dance Ensemble.

The Point
Winter 2013
Three Point Park dance alumni, James A. Washington (COPA '10), Annalee Traylor (COPA'10) and Kaylin Horgan (COPA '11), all members of the August Wilson Center Dance Ensemble, performed and taught dance to disadvantaged young people in the country of Suriname last October. Kendra Dennard, another former Point Park dance student, and Managing Director Andrea Young were also among the Ensemble members who made the trip.
The outreach program in Suriname, which lies above Brazil on the northern coast of South America (between Guyana and French Guiana), was the first international venture for the Ensemble, named one of "25 to Watch" in 2012 by Dance Magazine. Founded in 2009, the Ensemble aims to provide a bridge in the regional dance community, reaching across ethnic and socio-economic line to bring different dancers of different backgrounds and style to celebrate the diversity of dance.
According to Young, the deputy chief of mission for the U.S. Embassy spotted the Ensemble at the Three Rivers Arts Festival last June and arranged the visit to Suriname. "The idea for this project originated with the visit of hip hop artist Terence Nicholson, a.k.a. Sub-Z, in 2010. Surinamers often commented on the esprit de corps that was generated by the group's visit," she said. "Forms of relatively trendy dance are enormously popular, and a good avenue for reaching youth with messages about community building, team work and self esteem." During their visit the Ensemble dancers presented performances and conducted workshops for groups of young people. Values such as hard work, team-building, sound-decision making and collaboration with others were emphasized.
Washington, who has been part of the Ensemble since its inception, told the Pittsburgh Post-Gazette that the Ensemble was honored to participate in the Suriname project: "I think it definitely puts another pinpoint on the map for us," he said. He graduated cum laude from Point Park and has worked with and performed pieces by Sidra Bell, Francesca Harper, David Parsons, Kyle Abraham, Darrell Grand-Moultaire, Robert Battle, Cheryl Mann, and Christopher Huggins among others. In 2010, Washington participated in the prestigious project "Springboard Danse Montreal" in Quebec.
Annalee Traylor is a founding member of the Ensemble who concentrated in contemporary dance as a student at Point Park. She has performed works by Robert Battle, Bill T. Jones, Daniel Ezralow, Doug Varone, Whitney Moncrief, Jason Mcdole, and Kiesha Lalama. In addition, Traylor has spent summers at River North Dance Chicago, American Dance Festival, and Earl Mosley's Institute of the Arts.
Point Park alumna Kaylin Horgan became the youngest member of Pearlann Porter's Pillow Project Dance Company when she was 14 years old. She has performed works by such choreographers as Terence Greene, Christopher Huggins, Camille A. Brown, Robert Battle, Antonio Brown, Sidra Bell and Darrell Grand-Moultrie. In 2011, Kaylin toured throughout Paris, France, with the Pillow Project and renowned jazz poet Moe Seager, to share "Post Modern Jazz."
For more information on the August Wilson Center Dance Ensemble, visit www.awcde.net.
Photo by Aidan McKean