more news
Alumni profile: Adam Meys, entertainment technician for Disney's Finding Nemo - The Musical
Wednesday, January 25, 2012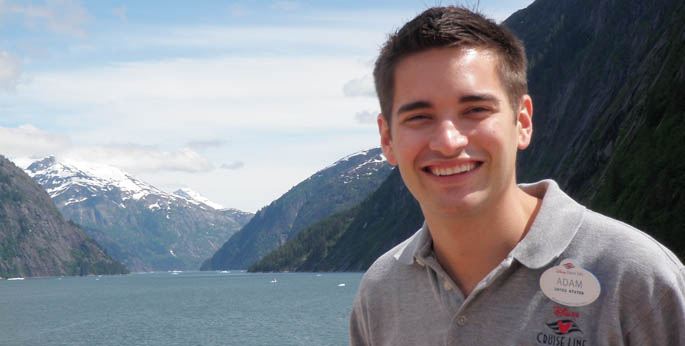 Stage management alum Adam Meys on the Disney Wonder cruise ship. Meys worked for Disney Cruise Line before becoming an entertainment technician forat Disney's Animal Kingdom.


Meet Adam Meys
Degree and major earned at Point Park: B.F.A. in stage management
Graduation year: 2007
Job title/current employer: Entertainment Technician for Finding Nemo - The Musical at Disney's Animal Kingdom
Hometown: Bloomfield, N.Y.
Now living in: Celebration, Fla.
What have you been doing since graduating from Point Park?
Right after graduating in May 2007, I returned to my second summer at Seaside Music Theater in Daytona Beach, Florida. Later that fall I began working as the automation technician on the Carnival Spirit. I worked for Carnival Cruise Lines on and off until March 2009, when I joined Disney Cruise Line as the automated systems rigger aboard the Disney Magic. I sailed the world with DCL for over two years, until I decided I wanted to get my feet back on dry land!
Why did you choose to attend Point Park University for stage management?
I fell in love with Point Park the moment I stepped into Lawrence Hall. (Of course, that was back in the days when it was just Lawrence and Academic halls!) Everyone I talked to while visiting and interviewing were really friendly and genuinely excited to be meeting me. I didn't get that same feeling from other conservatories. The biggest reasons that made me choose Point Park were the facts that I would be put on a stage management team for a show my first semester, and that the Pittsburgh Playhouse produced 18 shows each year. I knew I would be able to gain the experience I needed to be successful in my career.
How did you land your current job?
I got my job at Disney's Animal Kingdom by doing a lot of networking while working with Disney Cruise Line. It's amazing how people will help you succeed when they see that you are a hard worker with a good personality. Oh, and of course there was a lot of "faith, trust, and pixie dust!"
How did your time at Point Park help prepare you for your career?
Point Park gave me every opportunity to succeed. The class sizes were small, so I got the individual attention I needed from all of my instructors, who always truly cared about my education. The schedule was extremely demanding with all my classes, rehearsals, shows and work, but I wouldn't change a thing. Point Park really made me the person I am today.
What was one of your favorite experiences while you were at Point Park?
The best memory I have of Point Park was after the opening night of Hair, which was my first big show at school. The director came over to me after the show and said, "You called the show beautifully and have done an amazing job." I'll always remember the smile that put on my face!
What inspired you to pursue a career in stage management?
I always loved the theatre but didn't realize people actually did it for a living. I initially thought I would pursue a career in performance, but I discovered I also had a love of working behind the scenes. It wasn't until I had a technical internship at a local theater my senior year of high school that I discovered stage management. I loved the idea of being the person to keep the show going after it had opened. I love being a leader, and also being able to make quick decisions!
What advice do you have for students considering a career in stage management?
Being a stage manager is hard. You won't get the credit you deserve or the thanks that is due. But you can go to bed knowing that the show wouldn't be able to go on without you. Also, learn as much as you possibly can - about everything! If you would have told me that I would be running automation for Disney Cruise Line two years after I graduated, I wouldn't have believed it. Take a full course load each semester and push yourself as hard as you can. It'll pay off for you in the end.