more news
Alumni Profile: Meet Dave Droxler, Actor and Playwright
Wednesday, June 5, 2013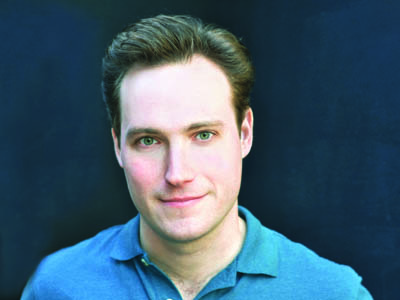 2001 theatre alumnus Dave Droxler played the title role in the production of The Man Who Laughs. The play was nominated for three Drama Desk Awards in the following categories: Unique Theatrical Experience, Outstanding Music in a Play and Outstanding Lighting Design. On May 19, Droxler competed against Tom Hanks and Steve Martin, among other famous actors.

Meet Dave Droxler
Job title: Actor, Playwright
Employer: It changes constantly, currently playing a leading role in an independent film, Remorse
Degree earned: B.F.A in theatre arts, 2001
Hometown: Philadelphia, Pa.
Now living in: New York City
Hobbies/interests: Reading, drawing, writing, clowning
What was it like to be nominated for the Drama Desk Awards?
It felt quite surreal, but exciting! It was such a fun experience to be sitting in the same theater as Tom Hanks, Steve Martin, Christopher Durang, and a plethora of other celebrities of a varying kind, knowing we were all there as nominees. I lost to Cirque De Soleil, but it was cool to even be nominated with them, let alone be beat by them.
What factors made you choose Point Park?
Point Park came into my view because I knew someone from high school that went there. When I went to visit Point Park, the thing that piqued my interest the most was the intimacy of the class size and seeing how it helped create relationships, not only with your fellow classmates, but also with your teachers, who have an eclectic range of acting methods. In addition, developing a working relationship with other performers and people in the business is extremely important, so I felt that Point Park provided that.
What advice do you have for today's students?
Find people you like and work well with them to create projects together. I'm a huge believer in developing your own work and collaborating with others to make it happen. I mean someone's got to make that play or that film, right? Why not you and your friends? It doesn't mean everything will be good (because it won't) but you will learn so much about your art, your strengths and weaknesses and how you work with others.
Maximize not only the connections you are making now, but also the space and opportunities you have available to you at Point Park. I wish I would have taken tap classes, and I also wish that I had easy access to free rehearsal and performance spaces.
Anything else you would like to add?
In no particular order of importance, here's a basic list of suggestions for alumni:
Create a website.
Don't hold off on paying back student loans. Start budgeting now to create a savings for those times when you don't have a gig (which you will inevitably have).
Look for obscure monologues or piece one together from a scene as opposed to doing what everyone else may be doing.
Try to stay away from negativity; it won't do anyone any good in this business.
I am very grateful for all of the opportunities I was given at Point Park to test out what I could (and couldn't) do. I had a safe and supportive environment to learn my strengths and weaknesses as I grew as a performer.
More About: alumni, success story, Conservatory of Performing Arts, acting