more news
Alumni Profile: Meet Missy Haught, Intern Coordinator, "The Chair" Series
Friday, September 12, 2014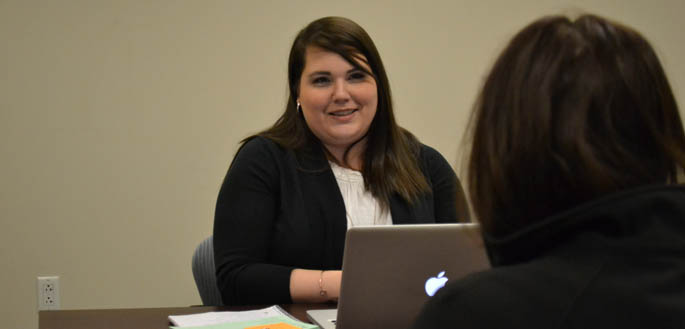 Alumna Missy Haught meets with a student intern working on "The Chair" project, a new documentary series produced in part by Point Park University. Watch the 10-episode series this fall on Starz or online at www.starz.com/originals/thechair/.
Meet Missy Haught
Job title: Intern Coordinator, "The Chair" series
Degree earned: B.A. in Cinema Arts, 2009
Hometown: Washington, Pa.
High School: Washington High School
Describe your role working on "The Chair."
My job was to unite eager Point Park students with seasoned industry filmmakers on all three tiers of "The Chair." Each week, I met with students to discuss the project; I then placed them in departments where they learned more about the process of making independent films.
What was it like working professionally with Point Park on this project?
Point Park was my home and safe haven for four years. I developed a lot of my skills and strengths there, and I think it's really great getting to exercise those creative muscles with my college family. It's also exciting to get to know the new and upcoming filmmakers who will be joining the Pittsburgh film industry within the next few years.
What other projects have you worked on since graduating from Point Park?
I've worked in casting on "Unstoppable," "The Next Three Days" and "Love and Other Drugs." Additionally, I've worked on major feature films with studios such as DreamWorks, Fox and Warner Brothers as well as smaller films like "Won't Back Down." I've done reality shows, commercials, pilots, television series work, features and shorts. I recently had the opportunity to be the wardrobe coordinator on the film "Out of the Furnace."
How did your Point Park experience prepare you for your career?
When I left Point Park and started on my first feature film job, I realized films are a business. Point Park trained me to handle that business. When you are making films constantly, which you do at Point Park, there are a myriad of lessons being taught. Who to work with, who not to work with, what to write, what not to write, what to say, what not to say, what locations are good, what locations are bad, etc. Those lessons, which have become instincts, have come in handy on every single film I've worked on. The cinema professors stress the importance of learning by doing. I am proud to come from a school that taught me how to make films, rather than just how to talk about them.
What advice do you have for prospective students?
Point Park offers more than many other film schools. If you are looking for a school that will ignite your creativity and broaden your knowledge of filmmaking, film theory and film history, consider Point Park. You will make films, you will study films and you will build a network of talented friends who will not only become your future co-workers, but who will also stand beside you as you re-shape the film industry one film at a time.
Text by alumna Abigail Mathieu
Photo by Sarah Cunningham, a senior photojournalism major
More About: cinema arts, internships, The Chair, alumni