more news
Alumnus Landon Kijowski Describes his Role as Grip/Electrician Swing on 'The Chair'
Monday, November 3, 2014
In the video above, alumnus Landon Kijowski provides a behind-the-scenes look at his role as grip/electrician swing.


Meet Landon Kijowski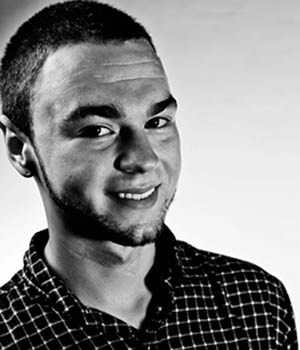 Job title: Grip/Electrician Swing, "Chair"
Degree earned: B.A. in Cinema Arts, 2013
Hometown: Kittanning, Pa.
High School: Saint Joseph High School
Describe your role working on "The Chair."
I was employed as a grip/electrician swing. My department was responsible for shaping and creating the quality of light after the electrician places a lighting instrument. The grip department is also responsible for safety of rigs and any other instrument that may be a safety concern.
How did you become involved?
Nelson Chipman initially contacted me and I was originally assigned as a key grip on "Hollidaysburg" (directed by Anna Martemucci), which at my age, would be impossible to achieve on a much larger production. Due to a shift in producers, however, my position changed, and I had to look into other options. My friend and Point Park alumnus, Frank Paladino, was hired as the cinematographer on Shane Dawson's film, so I reached out to him and was hired to work on the film "Not Cool" (directed by Shane Dawson).
Aside from this experience, what other projects have you worked on since graduating from Point Park?
I've been able to establish a fairly impressive resume less than a year after graduation. In June 2013, I went to Chicago to work on the latest Wachowski siblings film, "Jupiter Ascending," starring Mila Kunis and Channing Tatum. I worked on that production for two and a half months, and was promoted to locations on the second unit of shooting. After wrapping, I was hired on "Transformers 4" as a locations assistant. I decided to stay in Chicago and I have worked on "Crisis," ABC's "Betrayal," NBC's "Chicago Fire" and "Shameless."
How did your Point Park experience prepare you for your career?
Point Park prepared me in unexpected ways. Point Park gave me a well-rounded knowledge in the craft of film. The most important thing I learned was that when you graduate, you are at ground zero - no grades, no class favorite films; everyone is here to work, and you need to establish yourself from the other millions of people trying to get involved in a competitive industry. Once I actually worked on a large professional production, I was able to see that Point Park taught every basic principle of film production from start to finish. However, it was also apparent I still had a lot to learn.
Why did you choose to attend Point Park for cinema arts?
I always knew I wanted to study film production, however I did not have the money to move to California or New York to attend film school. So, I began looking into Point Park. It was closer to home and at the time, there was a lot of hype about the industry about to take off in Pittsburgh.
What advice do you have for prospective students?
No matter what you do in life, whether it's film or simply working in an office, give 110 percent every step of the way. Someone will take notice, proving that hard work and dedication pay off.
More About: cinema arts, The Chair