more news
Alumnus Marty Schiff Returns to Point Park to Teach the Next Generation of Filmmakers
Wednesday, November 29, 2017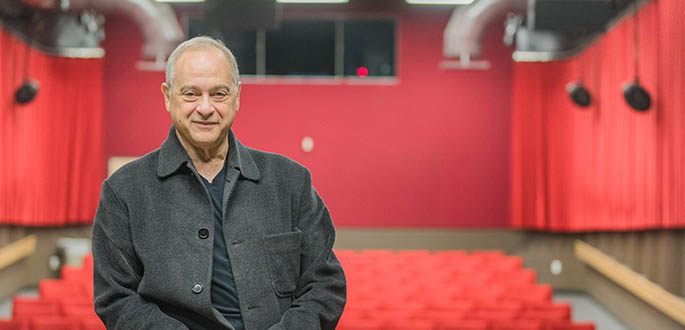 Meet Marty Schiff, Visiting Assistant Professor, Department of Cinema Arts
While a theatre student at Point Park University, Marty Schiff's film career started by killing zombies in a mall in George A. Romero's Dawn of the Dead. Schiff has also worked on several other Romero projects including Creepshow and Knightriders. While in Hollywood, he worked on shows with major networks and studios, including Dallas, Knight Rider, Newhart, as well as starred on dozens of television shows in the '80s and '90s. He would pioneer the Nickelodeon network with the groundbreaking series Out of Control, the first series produced by Nickelodeon for Nickelodeon and would set the stage for the networks style and success. Additionally, he started one of the first all digital production companies in the region and produced films, commercials and TV content.
What led you to pursue a career in the arts?
I always had a vivid imagination. I took an interest in film and theater at a very young age. Going to the movies or the Pittsburgh Playhouse were regular events in my young life. I would say it was those early exposures that really got me interested. 
How do you incorporate your professional experience into the classes you teach?
I teach a great deal from my personal experiences. I think that is one of my most important assets as a teacher here at Point Park — my life experience. I share lots of stories from my days in the field that hopefully inspire my students. I also tell it like it is. I made some mistakes along the way and hopefully, learning from my experiences, will make it a little easier on my students. I also have had a lot of fun! So, I want my classes to know that as well. 
What have you enjoyed most about teaching at Point Park?
Being able to take my career and share it with the next generation of filmmakers is incredibly fulfilling. It's really greater than I ever expected. Plus, working with my students keeps my perspective fresh in the industry.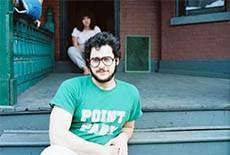 Marty Schiff as a student at Point Park
What can a student expect in your classes?
I expect them to show up, ready to participate and do the work. If a student participates and puts an effort into their projects, it has more value to me that how they do on quizzes. I've given students higher grades based on how they are engaged in my classes. The only students who do not do well with me are ones who have frequent absences, don't at least try and are silent. 
What advice do you have for students?
Get out there and do it. Don't worry about superficial things like fame and fortune. Dare to fail and try new things. Be passionate about your work and find joy in it. If you can't do those two things you may want to consider another career. Most of all, be brilliant and have fun doing it. 
Is there anything else you would like to add?
It's great to be back at Point Park teaching nearly 40 years after I graduated from here. I received a great foundation for a lifelong career at Point Park and I am beyond pleased to be able to pay it forward. 
Lead photo by Nick Koehler, freshman photography major
More About: Conservatory of Performing Arts, alumni, Pittsburgh Playhouse, faculty, cinema arts