more news
American Stage Director Monica Payne Returns to Point Park as Director of 'The Bluest Eye'
Tuesday, March 22, 2016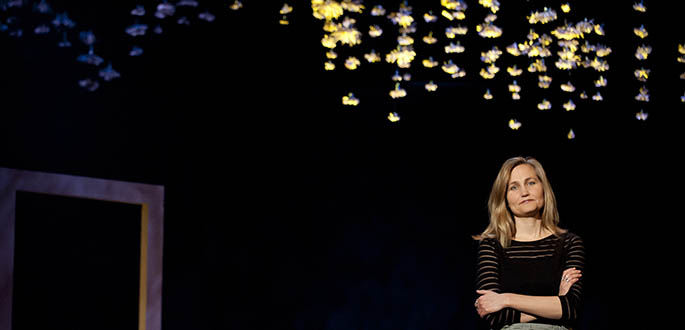 An American stage director of theatre and film, Monica Payne is committed to creating work that brings beautiful imagery, music and movement together to support the emotional life of the story. Payne was trained by and worked with the Steppenwolf Theatre Company as an actor and graduated with an M.F.A. in directing from the UCLA School of Theatre, Film and Television. She has been mentored by directors Jose Luis Valenzuela and Kim Rubinstein, and is inspired by the work of European directors/choreographers Ariane Mnouchkine and Pina Bausch. In 2012-14, she was a visiting assistant professor at Point Park. She is currently a freelance director who works on stages all around the world. She was thrilled to return to campus during the spring semester to direct The Bluest Eye at the Pittsburgh Playhouse.
How were you selected to direct The Bluest Eye?
While I was teaching at Point Park in 2013, I served on the artistic committee that suggests shows for upcoming seasons at the Pittsburgh Playhouse. I saw the world premiere of The Bluest Eye in Chicago and thought it would be the perfect for our students, so I suggested it. I was honored to be invited back to campus to direct this piece for the Conservatory Theatre Company.
Photo Gallery
---
Learn More
What were some of your responsibilities as the director?
My responsibilities began well before I arrived on campus. Several months ago, discussions began about production and design ideas. I came to campus in January to host a week of auditions and jumped right into the rehearsal process. After that, the main bulk of my duties shifted to being in the rehearsal room with the actors every night, as well as collaborating with our designers.
Tell us about The Bluest Eye.
Set in a small Ohio town in the 1940s, the play is about an African-American little girl named Pecola who yearns to look like a white girl. Pecola wishes she had blue eyes because society has taught her that beauty is blue eyes and blonde hair (Shirley Temple is brought up as an example). The play is tragically beautiful, and talks a lot about the messages that are coming at this young African-American girl and her inability to withstand the pressure. Written in the 1970s as a novel by Toni Morrison, this play is very current in terms of American culture/society, and what the rules are in terms of beauty and opportunity.
What were your key messages to the actors?
I'm really ensemble-focused, so I try to teach the actors the value of telling a story as 12 people who move as one unit. One of my greatest desires for them is that they understand that they're connected to one another as storytellers; less about having their star moment and more about interconnecting as a family. Specifically to The Bluest Eye, I wanted them to understand that the play has a strong message about what it means to be a young African-American girl, and to process what's going on in the world and what's going on within the play as an interconnected channel. We talked about politics, history, art, and many other subjects, in order to get ready to tell this story.
What advice can you offer a prospective student?
I think it's important for high school students to evaluate a college or university based on the diverse programming that it offers actors. Diversity in terms of everyone having an opportunity, as well as plays and musicals being given about the same weight. It's so important for a college or university to produce work that will expose young actors to new things and stretch them far beyond high school. I also suggest that they research the professors who will be your future mentors.
Final thoughts?
As a Caucasian woman directing an African-American play - featuring an African-American cast - this has been an interesting process that has required humility. There was a strong exchange with the actors and I have really enjoyed working with them. Entering the world of The Bluest Eye has been a special time for all of us and I'm so grateful for this opportunity.
Article by Kristopher Chandler, freshman screenwriting major


More About: theatre, Conservatory Theatre Company, Pittsburgh Playhouse, acting