more news
'Antigone' opens Conservatory Theatre season
Wednesday, October 21, 2009
Play by Anouilh runs Oct. 16 - Nov. 1 at Pittsburgh Playhouse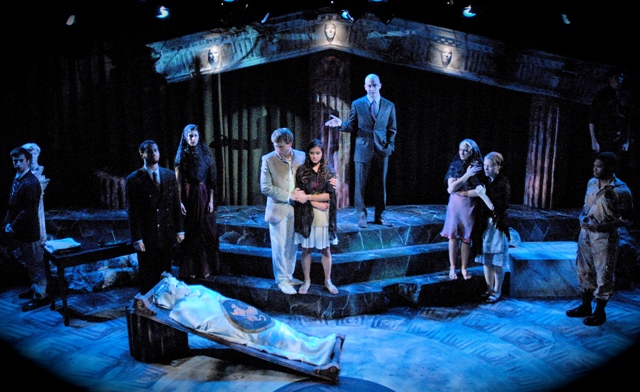 Point Park University's Conservatory Theatre Company kicks off the 2009-2010 season with Antigone, adapted by Lewis Galantiere from the play by Jean Anouilh. Antigone runs at Point Park University's Pittsburgh Playhouse Oct. 16, 2009 through Nov. 1, 2009; John Amplas directs.
The tragic story of Antigone is inspired by the Sophocles play of the same name written in fifth century B.C. When her brothers kill each other in a battle for the throne, but only one is allowed to be properly buried, Antigone must decide where her loyalties lie: with her family or with her king. Can one young woman, destined to make the ultimate sacrifice, rise up against the power of a godless state determined to destroy her if she does not obey? Antigone, one of the most time-honored Greek tragedies, is the enduring tale of making heroic choices in the face of an impossible destiny.
Anouilh's Antigone was first performed in Paris on Feb. 6, 1944 during the Nazi occupation of France.
Antigone opened Friday, Oct. 16, 2009 and runs through Sunday, Nov. 1, 2009. Performances will be held Thursdays through Saturdays at 8 p.m. and Saturdays and Sundays at 2 p.m. Tickets range in price from $18 to $20 and can be purchased by calling the Pittsburgh Playhouse box office at 412-621-4445 or online at www.pittsburghplayhouse.com. Seating is very limited.
See below for video interviews with the director, scenic designer, lead actors, as well as for an inside look at the production.