more news
Award-Winning Actor, Writer and Director Bryan Cranston Visits Point Park University
Monday, November 28, 2016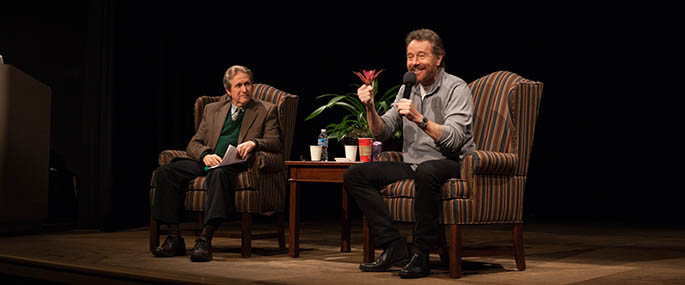 (L-R) Steve Cuden and Bryan Cranston in Point Park University's GRW Theater
Known for his work in Breaking Bad, Malcolm in the Middle, Seinfeld, Argo and many other hit television shows and films, award-winning actor, writer and director Bryan Cranston told his story to Point Park University students Nov. 16 in the GRW Theater. Cranston is in Pittsburgh filming the movie Last Flag Flying co-starring Steve Carell and Laurence Fishburne.
"Getting to hear from Bryan Cranston at Point Park was a true honor," said David Randolph, a junior cinema production major from Pine-Richland High School. "He is, without a doubt, one of the greatest actors in television history."
During the conversation, led by Steve Cuden, associate professor of screenwriting, Cranston shared stories from his career, answered questions and offered advice to students.
"To be successful in this business you need talent, persistence, patience and luck. If you do not love what you do, do not attempt to do it," Cranston said.
"Bryan also focused on being well-rounded in the crafts of acting, writing, and directing as a way to become excellent at what so many of our students hope to achieve in the motion picture industry," said Cuden.
Justin Illig, a junior cinema production major from Canon-McMillan High School, said the opportunity to hear Cranston speak at Point Park was invaluable.
"Bryan Cranston encouraged us to work hard, be confident, creative and collaborative in all that we do," he said. "He gave a lot of insight from his personal experiences in the industry and shared lessons he has learned along the way. It was amazing to have him visit Point Park."
Added Cuden, "Every student I spoke to since Bryan's appearance has told me how inspiring he is. A number of those students said they had lost faith in their own ability to reach their goals, but Bryan had re-energized their sense of purpose."
Photo by Olivia Ruk, a senior mass communication major
More About: guest artists, Conservatory of Performing Arts, Pine-Richland High School, Canon-McMillan High School, acting, cinema arts, faculty, cinema production, screenwriting