more news
Award-Winning Singer Ann Hampton Callaway Hosts Master Class at Point Park
Friday, December 13, 2013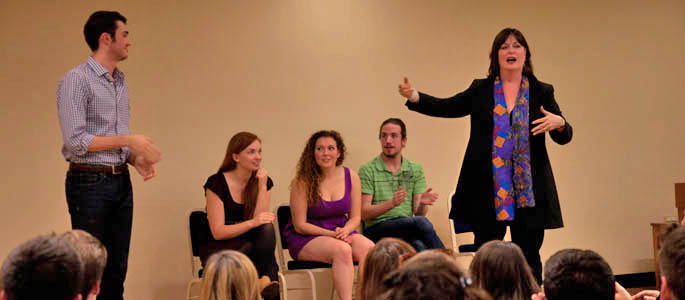 Pictured left to right: Wood Van Meter, Katie Oxman, Caitlin Bower, Kyle Coughlin and Ann Hampton Callaway.
Award-winning singer-songwriter Ann Hampton Callaway visited campus during the fall 2013 semester to host a master class with Conservatory of Performing Arts students. Callaway was in town to perform The Streisand Songbook with the Pittsburgh Symphony Orchestra at Heinz Hall.
---
Related Links
Theatre Program
Conservatory Requirements
Schedule a Campus Visit
Apply Online Free
"It's such a great pleasure to be in the presence of young, fabulous talent," Callaway said to the students in the JVH auditorium.
Four musical theatre students had the opportunity to perform and receive feedback from Callaway.
"Singing in front of Ms. Callaway was sort of a dream come true. She taught me to be brave, take risks and never give up," said Katie Oxman, a senior musical theatre major.
Classmate Wood Van Meter agreed.
"Getting to sing in of front of Ms. Callaway was a huge honor; the entire experience was so inspiring," said Van Meter, a senior musical theatre major. "Point Park provides so many opportunities like this master class for students."
Callaway talked about how to work with an accompanist, how to tell a story when you sing and offered advice to the group.
"When you're on stage, think about where you are, what time it is and who you are singing to. That is one way to get rid of self-consciousness and really tell the audience your story."
The master class concluded with a group improvisational exercise in which Callaway played the piano and musically interviewed the students, asking them to sing their response about how they fell in love with music.
"Improv is one of the greatest tools to find out what you are thinking, how you feel and free up your mind. I would say I do the best thinking when I'm not thinking. I encourage you to be diverse and explore the different ways to pull out the most of who you are when you sing."
More About: musical theatre, master class, Conservatory of Performing Arts