more news
Broadway's Tony Yazbeck to Give Commencement Address, Receive an Honorary Degree
Tuesday, April 19, 2016
Tony Yazbeck starring as Gabey in Broadway's On the Town.
Meet Tony Yazbeck
Most recent role: J.M. Barrie in Broadway's Finding Neverland
Broadway credits: On the Town, Chicago, White Christmas, Gypsy, A Chorus Line, Never Gonna Dance and Oklahoma!
Honorary degree from Point Park: Doctor of Fine Arts, honoris causa (Point Park University's commencement ceremony April 30)
Degree pursued at Point Park: B.A. in Theatre (1997-99)
Hometown: Born in Riverside, Calif., and raised in Bethlehem, Pa.
High schools: Pleasant Valley High School (Brodheadsville, Pa.) and Dr. Phillips Performing Arts High School (Orlando, Fla.)
Now living in: New York City
Award nominations: Tony Award, Outer Critics Circle Award and a Drama League Award
Award received: Fred Astaire Award
Hobbies/interests: Show business is a full-time job. Besides the business of show, I'm a director and choreographer who is interested in creating new works from scratch. Personally, I'm always trying to stay connected to family and friends. In addition, I am a teacher and strong advocate for arts programs in schools.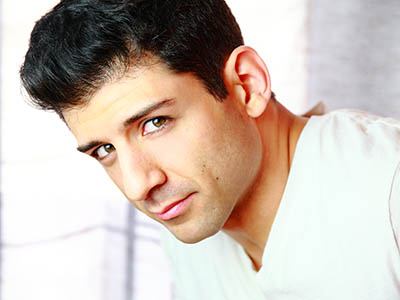 What does it mean to be selected as the Commencement speaker and to receive an honorary degree?
When I first got the call from Point Park, I got pretty emotional on the phone. This is sort of a dream come true and a very humbling experience for me. I didn't have much money growing up and didn't know how I was going to pay for college. Point Park saw my potential right away.

I went to Point Park for two years and had some incredible teachers. I think I was so emotional on the phone because my mother always wanted me to get a degree in something. I always told her it isn't necessarily about a degree when it comes to being an artist; it's about your teachers and fostering relationships with your mentors, that's what makes you who you are in this business.
What is your key message to the Class of 2016?
It's about how to be successful in life. I've learned that success comes from who are you are as a person. It's not about what you do or how much money you make, it's really about your own personal character. More and more people are getting jobs based on the fact that they are a great person to work with. I think if we drop the ego and create the best version of something that helps the planet in some way, then we foster good relationships and can continue working. Being fruitful pretty much just happens when we focus on what our purpose is.
"I've learned that success comes from who are you are as a person. It's not about what you do or how much money you make, it's really about your own personal character …"

-- Tony Yazbeck

---
Related Links
What are your favorite Point Park memories?
I have so many memories from my time at Point Park, but most importantly I cherish all of the lessons I learned from so many incredible teachers and mentors (Doug Bentz, the late Ron Tassone, Ricardo Tobia, Joe McGoldrick, the staff and administration). I also loved the city, there's so much to do in Pittsburgh and I will always be a Steelers fan.
What is one of the most valuable lessons you've learned in your career?
It's been a life lesson of just grace - being gracious to people and dropping your own habitual way of ego. It's also about understanding that it's OK to say no to certain things that look like they aren't necessarily what you want to do, which opens doors to other things in life. Sometimes, not everything coming your way is the right thing to do (I learned that along the way). Having really good judgment in your field of work turns out to be a good virtue.
What are your career goals?
As far as theatre goes, I'd like to find that brand new project, something somebody hasn't written yet that I can collaborate on as an actor/singer/dancer. I have a few writing and directing projects that I'm working on. For me, it's really about connecting and finding newer, deeper meanings in theatre with storytelling. That's what turns me on as an artist and what makes me keep going.
More About: theatre, Conservatory of Performing Arts, musical theatre, commencement, success story, acting