more news
2019 B.A. in Cinema Production Graduate Calyx Deroche Selected for WQED's Next Generation Fellowship Program
Alumni Profile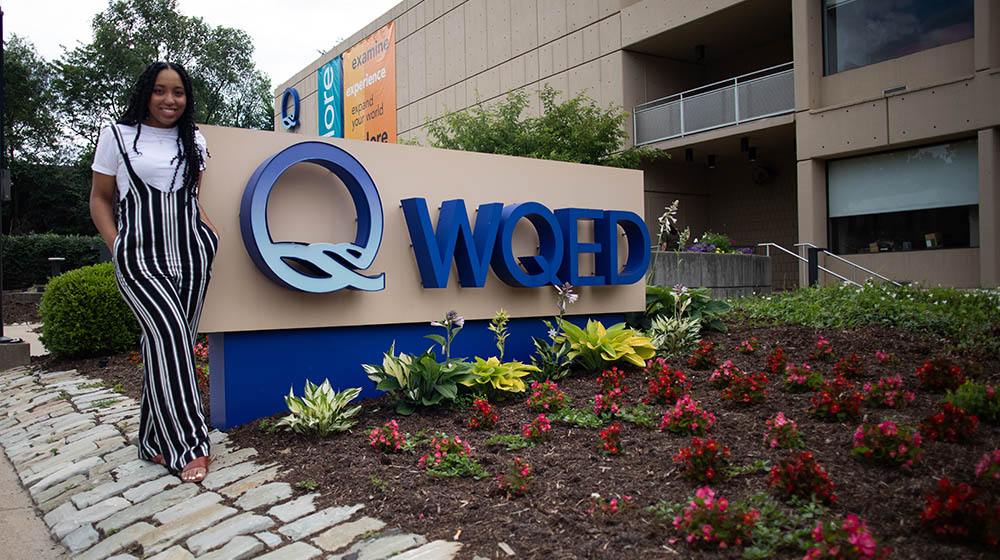 Calyx Deroche earned a B.A. in cinema production in three years at Point Park University. She completed an internship at WQED and was recently hired as a Next Generation Fellow, an intensive training program for aspiring content creators.
Meet Calyx Deroche
Job Title & Employer

Next Generation Fellow, WQED

Major

Cinema Production

Graduation

April 2019

College Activities

Strong Women Strong Girls

Scholarships

Artistic Achievement, Apprenticeship

Hometown

Atlanta, Ga.

High School

Pebblebrook High School

Hobbies & Interests

Meditation, tanning, eating 

pierogies
"The training and education Calyx received at Point Park University has had a positive impact on the work she does at WQED as a Next Generation Fellow. The skills she learned as a student are apparent in her willingness to join a project to gain better understanding and experience. Calyx understands the importance of preparedness, research and knowledge of a given subject, and of digging below the surface in order to reveal the layers that can give a story its depth. We have had several outstanding relationships with Point Park students and undergrads and we're happy to have made Calyx part of that tradition."
Minette Seate, senior producer, WQED
"Point Park allowed me to gain industry skills and provided so many hands-on opportunities. The producing classes gave me the information and skills I needed to enter the workforce."
Calyx Deroche
You are a Next Generation Fellow at WQED. Tell us more about the program and your responsibilities.
Each year, two people are selected for this intensive training fellowship at WQED. The program provides practical work experience to learn about the editorial process. I will be developing, researching, writing, shooting and editing my own productions. 
How did your recent internship at WQED prepare you for the fellowship?
My internship gave me the necessary skills to enter the fellowship with confidence. I went on shoots and produced my very own episode of Pittsburgh Eats. It was awesome to connect with people in Pittsburgh and share their stories.
Because of my internship, I already knew most of the production staff and made an effort to seek out opportunities, ask questions and offer new ideas. I believe it paid off. I wanted to absorb as much information as possible. It's amazing to have the opportunity to work with award-winning professionals at WQED.  
In what ways did your Point Park experience prepare a pathway to your career? 
Point Park allowed me to gain industry skills and provided so many hands-on opportunities. The producing classes gave me the information and skills I needed to enter the workforce. While producing my senior thesis film, I learned so much about the industry overall (social media marketing, how to be innovative, budgeting).
Why did you choose Point Park for your major?
I knew I wanted to work in the film industry when I turned 16. I was looking for a school outside of Georgia, one that was affordable and offered scholarships. Point Park's Conservatory of Performing Arts was one of the only options I found that allowed me to graduate in three years. 
What advice do you have for a student considering Point Park? 
It is entirely up to you to be successful. Point Park will provide you with everything you need to succeed, but you have to use those tools and work hard. You have to determine what you want for yourself, and how the opportunities at Point Park can help you achieve them. 
Is there anything else you would like to add?
Remain true to yourself and your goals. Many people will tell you no, and you just have to keep trying. I was rejected from an internship that ultimately led me to WQED's program. 
Photo by Hannah Johnston, English major
More About: cinema production, scholarships, alumni, Conservatory of Performing Arts, internships