more news
'Child's Christmas' uses unique approach to casting students
Friday, December 11, 2009
Play is a re-telling of Christmas memories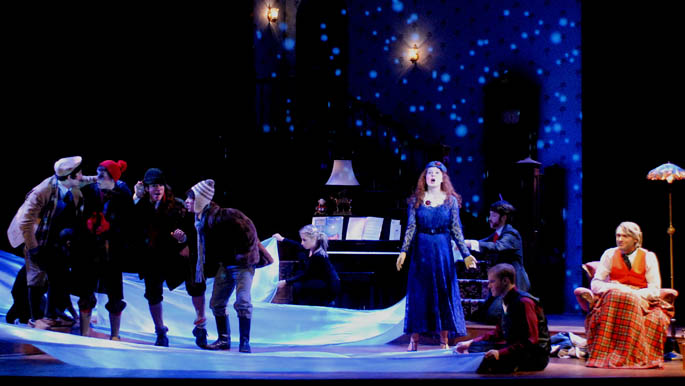 "One Christmas was so much like another..."
A Child's Christmas in Wales is not the story of one child's Christmas. Nor is it specific to Wales or any other place. A Child's Christmas in Wales is the story of everyone's Christmas.
Based on the poem by Dylan Thomas, A Child's Christmas in Wales is a re-telling of Christmas memories, complete with everything from throwing snowballs at cats, to discussing Christmas presents, to caroling and singing "King Wenceslaus." The story is designed to capture hearts and minds not through a specific tale but through generic vignettes that call upon the memories and personal moments everyone has experienced at Christmas.
A Child's Christmas in Wales focuses on the non-commercial side of the holiday and is a celebration of family and community. Perhaps what makes this story ring true is the real community that the cast developed while working together with the director, Mark Staley, and associate director, Joey Scarillo, to create the adaptation.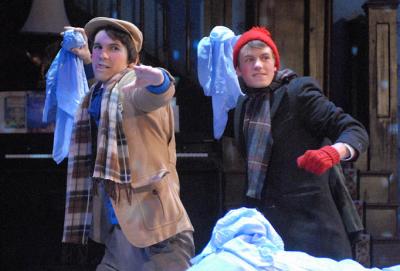 Contrary to most casting processes, the cast for A Child's Christmas in Wales was selected as a group, with individual roles not being chosen until their first meeting together. The directors simply looked for honest people who could work well together. They also chose students who were musically creative.
The purpose of this unique method of casting was to put together students who could develop their own "family" in addition to working with the directors to create the adaptation out of Thomas' poem. The production also has a student-only design team.
"It is their own," said Staley.
This has become a major professional opportunity for all of the students involved. The students are able to work as creative professionals while still being in a supportive student environment. They have the opportunity to learn through their own experiments what will work and what won't.
"It would be easy to give them the answer," he said. "But it'd be wrong."
Although the production has a directive team, the cast collaborated a lot on the show to make it more than just illustrated words. Several students created original songs for the production out of a few lines in the poem. The cast also created a unique family tree to help develop their characters with unspoken backgrounds, subplots and relations. They even incorporated a bit of themselves in the play by contributing their own home videos for use in the production.
The adaptation creates a unique experience that is designed to encourage each audience member to take something different home from the show. While being directed at children, the story is complex enough for adults and full of classic memories for older patrons.
"This play has gone far beyond anything I could have expected," said Staley.
A Child's Christmas in Wales opens Friday, Dec. 11 and runs until Sunday, Dec. 20 with a preview performance open to the public on Thursday, Dec. 10. Shows are Thursdays through Saturdays at 8 p.m. and Saturdays and Sundays at 2 p.m.; there is no show on Thursday, Dec. 17. Tickets are $7 each and can be purchased by calling the box office at 412.621.4445 or online at www.pittsburghplayhouse.com.
Photos by Drew Yenchak