more news
Cinema alum producing, directing documentary for ESPN writer
Wednesday, February 17, 2010
Alum Kevin Kauffman working on a variety of film projects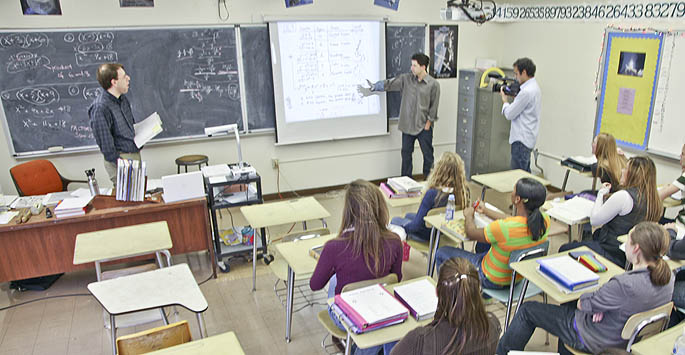 Top: Cinema alumnus Kevin Kauffman films ESPN writer Todd Gallagher at Trinity Christian School for a documentary titled Todd vs. High School. Below: Gallagher and Kauffman during a break from shooting. | Photos by Andrew Weier
Have you ever imagined what it would be like to go back to high school? One author decided to make an attempt at this frequently dreamed-of feat, and he chose a Conservatory of Performing Arts Cinema and Digital Arts graduate to capture his experience.
Kevin Kauffman, class of 2009, is the director and producer for Todd vs. High School, a documentary and book about Todd Gallagher's second time through his senior year, this time at Trinity Christian High School in the Pittsburgh suburb of Forest Hills. Gallagher is a 33-year-old ESPN writer and author of the book Andy Roddick Beat Me With A Frying Pan.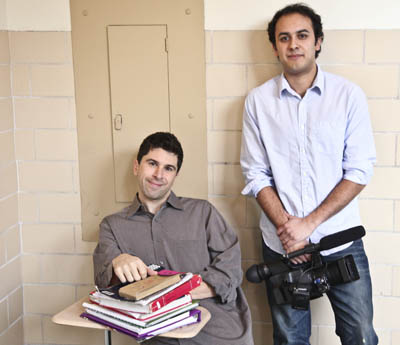 Kauffman heard about the job after the cinema department was contacted about recommendations for a director for the documentary. He was referred by a faculty member, met with Gallagher for a test shoot and was offered the job.
His daily duties include following Gallagher around school, as he is the only regular videographer for the project. He has already edited together two brief segments for the documentary and after the raw footage is completed he will either continue to finish the documentary or move on to another of Gallagher's projects.
Kauffman was extremely thankful for his well-rounded training in the program that exposed him to both the technical and creative side of the film industry.
"The balance opens up job opportunities," he said.
Another important aspect of the program for Kauffman was the experience he gained from learning in a digital program. Point Park has one of the only digital programs in the country, and according to Kauffman, it's the best. Compared to some of the bigger West Coast cinema programs, the digital focus really gave him an advantage in the professional world.
He also appreciated that the program allows students to begin writing and working on films as a freshman. Many other programs do not allow their students to begin work toward their majors until their sophomore or junior year.
"When you get here you're making movies," he said.
Kauffman's previous experience includes directing and producing industrial films for UPMC, working on the production crew for the 2009 film Bridge to Nowhere, and making music videos for Formula 412 and the Pittsburgh rapper Wiz Khalifa.
Making connections is essential to success in the entertainment industry. His small classes and the sense of community in the Conservatory generated personal connections between Kauffman, his professors and his peers. The Cinema and Digital Arts program instills a strong work ethic and a passion for their major in the students, which is significant enough that Kauffman has hired other students from the program to assist him in the project, reinforcing the idea and value of networking.
"Almost every job I've had is because I went to school here," he said.
Article by Meagan Stroud, sophomore journalism major at Point Park University