more news
Cinema Alumnus Alex Tracy is an Associate Producer at Method Studios in New York City
Friday, January 22, 2016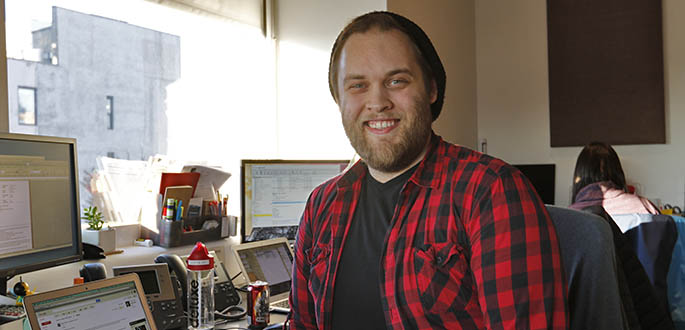 Meet Alex Tracy
Job title: Associate Producer, Method Studios
Degree earned: B.A. in Cinema Arts, 2011
Hometown: Hanover, Pa.
High school: South Western Senior High School
Now living in: New York, N.Y.
Hobbies/interests: Improv/musical improv, cooking and discussing terrible public transportation
LinkedIn: Alex Tracy
How did you land your job as an associate producer at Method Studios?
I landed my job as a result of the connections I made in the visual effects industry in New York. I started as a runner at another visual effects company, Framestore. After two years as a runner and a facilities coordinator, I was approached by Method's recruiter (formerly at Framestore). I took a job as a production coordinator in the fall of 2014 at Method and was soon promoted to associate producer in the fall of 2015. It was a combination of luck and maintaining relationships.
What are your key responsibilities at Method?
I am responsible for projects ranging from creating animated billboards in Times Square, beauty re-touching or creating a computer-generated eagle. Depending on the project, I am involved from concept to completion, while others will be given to me after the editing process to be finished and shipped to broadcast.

I bid the job with the artist based on agency direction and I pick a crew for the project based on past experiences with the artist and suggestions from my supervisors. Once the job is moving forward, I communicate between the agency and the artist, right up to delivery for air.
What excites you the most about your new role at Method Studios?
I am excited to work with as many artists as I can and grow in an ever-expanding industry. I envision that the visual effects industry will continue to grow in the future.
Why did you choose to attend Point Park for cinema arts?
I started at Point Park as an undecided major and most of my friends were in the cinema arts department. After working on several of their projects through the course of my first year, I decided to apply to the cinema program. I loved how hands on everything was and that the professors were not there to stroke egos, rather they were there to hone your talent while teaching you to be successful in a very competitive field.
How did your Point Park experience prepare you for your career?
I began producing films for Point Park during my first year in the program. That prepared me more than anything. I was ultimately responsible for making sure everything moved smoothly (which they often times did not). No one was there with guidelines on how to re-write your script after a weekend of shooting and one of your actors backed out. In my current position, while I do have an amazing support team here, I'm responsible for most decisions and their repercussions. Point Park taught me to be responsible and sensible when it comes to producing.
What are your career goals?
I'm not sure. I never thought I would be producing visual effects. I don't know that I will be producing visual effects five years down the line, but I do know that producing can translate to many different fields in the entertainment industry. I believe as long as you are organized, willing to work together and ask as many questions as you can, you'll be ok. Hopefully.
Final thoughts?
Be open and work with as many people as you can. While also finding what kind of people you work well with. Then, by the time you graduate, you'll know what people you can work for and those you can't. That's the most important thing to me.

Photo by Alvin Cruz
More About: cinema arts, alumni, success story, Conservatory of Performing Arts