more news
Cinema alumnus is assistant editor on film showcased at Sundance Film Festival
Friday, February 8, 2013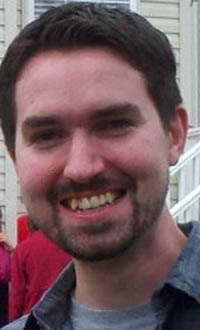 Steve Jacks, a 2006 cinema arts alumnus, worked as assistant editor on the film The Inevitable Defeat of Mister & Pete. The film was showcased, among many others, during the Sundance Film Festival last month in Park City, Utah.
The Inevitable Defeat of Mister & Pete is a "story about two young boys living in the projects of Brooklyn, who are left to fend for themselves after their mothers are taken away by the authorities. Throughout this experience, a unique friendship begins."
"I watched the film with a packed audience at the Eccles Theater in Park City - the largest theater that seats 2,700 people - and it got a standing ovation when it finished screening," said Jacks. "There's no better feeling than to see your work make it through to the final cut."
As assistant editor, some of his responsibilities included running the cutting room, making sure the primary editor had everything he needed to begin the editing process, relaying information from the sound recordist and script supervisor, selecting sound effects and helping with the pass on the final cut.
"The assistant editor is a very important role," said Jacks. "The editor has the task of cutting the film together, but the assistant is key in making sure that nothing gets in the way of the editor doing his job."
Jacks credits much of his success to his Point Park experience.
"Of all the great things I learned at Point Park, whether it was technical editing concepts or even creative directing techniques, I would say that learning to work in groups is crucial to the success at any job," he said.
The Sundance Film Festival is one of the largest independent film festivals in the United States.
Learn more
Learn more about auditioning or interviewing for the Conservatory of Performing Arts.
Article by Kayleigh Smith, junior public relations and advertising major
Photo provided by Steve Jacks