more news
Cinema Arts Alumnus is Art Director for 'The Umbrella Man'
Monday, November 19, 2012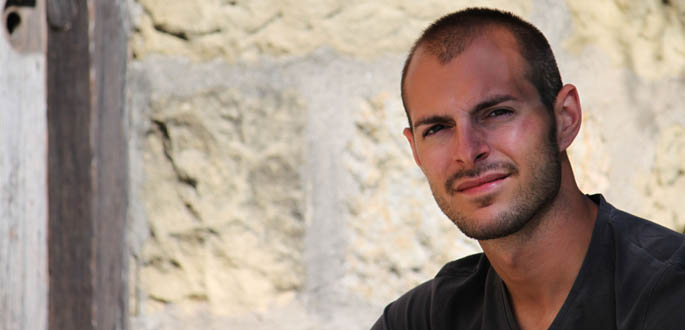 Shawn D. Bronson, a 2008 graduate of Point Park University's cinema arts program, recently returned to Pittsburgh to work as the art director for the independent feature film project, The Umbrella Man. Point Park cinema students and alumni were also involved in all aspects of the film.
Meet Shawn D. Bronson
Job title: Art Director for The Umbrella Man
Now working as: Freelance Art Director/Production Designer
Degrees earned: Master of Fine Arts in production design, American Film Institute; Bachelor of Arts in cinema arts with a concentration in directing, Point Park University
Graduation years: 2011, 2008
Hometown: Indiana, Pa.
Now living in: Los Angeles, Calif.
Why did you choose to attend Point Park?
I transferred to Point Park because of the newly started, at that time, cinema arts program. Film is what I wanted to be doing with my life and the program seemed like the perfect catalyst to assist me. It was through that major that I was introduced to art direction and decided to further my education and skills at American Film Institute.
How did you get the job as art director for The Umbrella Man?
I had worked with the production designer, Merissa Lombardo, one summer on a commercial in Pittsburgh and we kept in touch. When she got the design job, she called me to art direct for her and I have been very anxious to come back to Pittsburgh and work for a little while.
What were some of your key responsibilities as art director for this film?
Some of my key responsibilities included the following: art department workflow, scheduling, budgeting, conceptual renderings, technical drawings, graphics, and coordinating with production and locations as per location/set needs.
Provide a brief synopsis of the film.
Pittsburgh, 1983 - A man's 8-year-old son dies in a tragic hunting accident and to cope with the grief, and his down spiraling of his marriage, he becomes associated with a group of conspirators regarding the 20th anniversary of the John F. Kennedy assassination.
What was it like working with fellow Point Park alumni on this film?
It was a treat to be able to work with some former classmates and also some more recent graduates. It's always a good time reminiscing about a former time in your life and seeing where you've changed as a person and developed professionally.
What advice do you have for a prospective student considering the cinema arts program?
I think the program is a great start to introduce yourself to and try out the many different areas that a career in film has to offer. In addition to that, with the continual professional filming that has been occurring in the Pittsburgh area, I think the program lends you the opportunities for internships and post-graduation entry-level positions to gain experience and build your network that will help you get to where you want to be someday.
What's next for you?
I am lucky enough to say that I have been working fairly consistently since I graduated and look forward to whatever that next production is, though for right now I am enjoying some time off at home in Los Angeles getting little projects done around the house and spending time with my partner and our dogs preparing for the holidays.
Photo by Shawn D. Bronson