more news
Cinema faculty film gets screening in Beverly Hills
Friday, March 5, 2010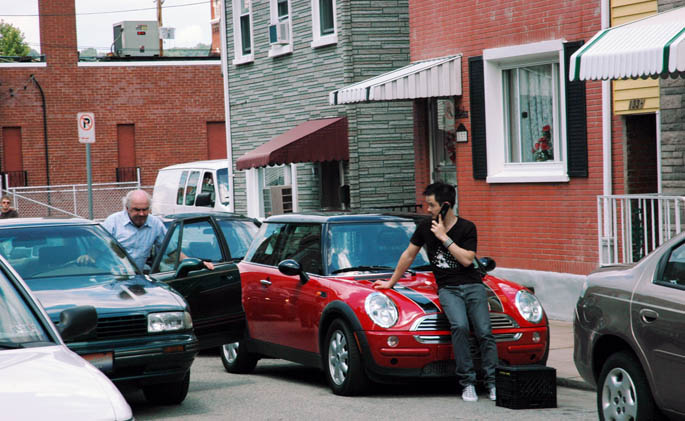 A scene from the short film Milk Crate, by Point Park teaching artist John Rice.
Milk Crate, a short film by Point Park University cinema arts teaching artist John Rice, will screen on Saturday, March 13 at the 2010 Beverly Hills Hi-Def Film Festival in Beverly Hills, Calif. Milk Crate is one of the 26 shorts selected out of 200 submissions. It was originally written and directed by Rice as part of the Pittsburgh Neighborhood Narratives project originated by Kristen Lauth Shaeffer and Point Park cinema and digital arts assistant professor Andrew Halasz.
The film is about the conflict between old-time resident Charlie following the local custom of saving his parking spot with a milk crate and new resident Mohawk not being familiar with the parking protocol. All of this is observed by another resident of the neighborhood, Floral Duster. The dialogue in the film is spoken in multiple languages, with all of the characters assuming they comprehend each other, which creates misunderstandings and tension. The old and new mix it up in this tale told in a changing neighborhood - Pittsburgh's South Side.
Rice says, "I was interested in telling a story about this particular neighborhood I used to live in 25 years ago, using as little dialogue as possible, and having that dialogue spoken in a few different languages where the characters might assume that others know what they are saying. The drama escalates partially due to that assumption being wrong. I did not want subtitles for clarification but wanted to rely on the physical actions of the characters to carry the story. The resolution features another Pittsburgh tradition that may be familiar to others who have lived in tight knit neighborhoods."
Milk Crate was shot one street away from where Rice lived in the early 1980s. The film was originally used as the opening for a compilation of films titled "Greetings From Pittsburgh: Neighborhood Narratives," that was shown over a dozen times to packed houses in the Pittsburgh area and recently aired on WQED's Filmmaker's Corner program.
Milk Crate will screen on Saturday, March 13 at 6 p.m. in The Wilshire Screening Room in Beverly Hills, Calif.
Related links
Cinema Arts program
Cinema Arts faculty