more news
Cinema grad works on major motion picture 'Unstoppable'
Thursday, January 21, 2010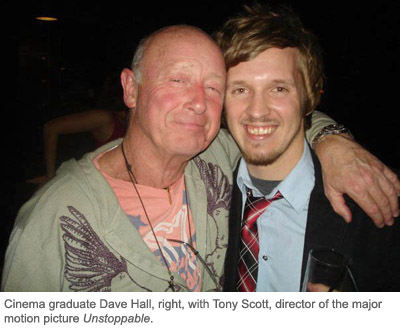 One of Point Park's Cinema Arts graduates had the opportunity of a lifetime: working on the new major motion picture Unstoppable.
The film, directed by Tony Scott of The Taking of Pelham 123 and Top Gun, is about a runaway train filled with combustible materials that two everyday heroes, played by Denzel Washington and Chris Pine, try to stop from destroying a city.
Dave Hall, class of 2009, was originally hired as a set deck assistant to help with documents, posters and other props for the film. After his initial job, he was hired as the 24 frame video editor, working on surveillance footage and background news coverage for the televisions in the control room where Rosario Dawson helps Washington and Pine in their attempt to save the city.
After Scott saw Hall's background footage, he decided to use it as the featured news footage for the film.
Although his goal in school was to become a director, Hall enjoyed his work for Unstoppable and found it to be a great way to break into the business. Point Park's digital program training was very similar to the work that he did in the video playback department for the film, particularly his experience with the editing program Final Cut.
"The great thing about the program is you learn a little bit of everything over the four years," said Hall.
He was also appreciative of the amount of creative experience he accumulated in school. Throughout his education he had the opportunity to work on many films from various aspects, including production, directing and cinematography.
"A lot of other film programs don't have the focus on creating," he said. "I'm really grateful for my education here."
Learn more about the Cinema Arts program