more news
Cinema Major Expands Professional Network, Gains Experience at International Film Festival
Monday, November 2, 2015
Meet Kelsey Myers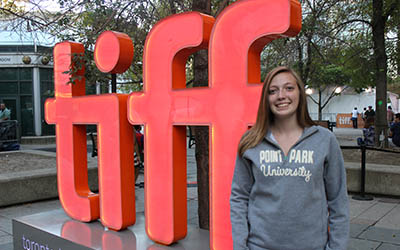 Internship: Toronto International Film Festival
Major: B.A. in cinema production, May 2018
Hometown: Titusville, Pa.
High school: Titusville High School
Scholarships: Artistic achievement award and the Sam Miller Scholarship
College activities: Honors Program, Honors Program mentor and treasurer of the John P. Harris Society
Hobbies/interests: Photography, film and biking
Why did you choose Point Park to study cinema?
I started editing videos at a young age and it was always something I enjoyed. I worked on video production projects in high school and decided to make a career out of it.

I chose Point Park University because I think the cinema production program is the best in the city. The campus is in Downtown Pittsburgh and relatively close to my hometown in Titusville, Pa. Another advantage is that classes are small and I have the chance to interact closely with my professors and peers.
What is the Toronto International Film Festival?
The Toronto International Film Festival is a public film festival that brings together filmmakers and film lovers from around the world to experience filmmaking like never before.

At the festival, attendees have the opportunity to attend film screenings before theatrical release, panel discussions, press conferences and red-carpet premieres. Companies from around the world gather to work and distribute their films to the public. TIFF is one of the most celebrity-driven festivals and it was great to experience this firsthand.
What interested you most about TIFF?
My classmates had gone to Sundance Film Festival, Cannes Film Festival and TIFF, and they had an amazing time. Therefore, I thought I'd give it a chance. The application process is all online. You must have a short film, along with a video introducing yourself and explain why you want to attend.
What were your key responsibilities at TIFF?
With the president and director of international sales of the International Film Trust, I was in charge of leading producers, directors and CEOs to their conferences. During their meetings, the International Film Trust would promote the film they are trying to distribute, and negotiate with buyers to release the specific film to a larger audience. Overall, the experience was great for meeting and connecting with professionals in the business.
Tell us more about the networking opportunities you had at TIFF.
Besides working at my internship, I was able to attend press and industry screenings, panels and meet-and-greets with filmmakers. At panels and screenings, I had the opportunity to sit next to industry professionals and start a conversation. The meet-and-greets were also a great way to talk to the professionals face-to-face.
What are some of your most memorable experiences at TIFF?
While I'll never forget meeting Eddie Redmayne and taking a picture with Jessica Chastain and Mark Ruffalo, my most memorable experiences were meeting industry professionals, volunteers and public filmmakers who share my love for cinema. These conversations are what inspire me to continue my career in filmmaking.
Article by Kristopher Chandler, a freshman screenwriting major
More About: cinema production, Downtown Pittsburgh, scholarships, cinema arts, internships, Honors Program