more news
Cinema Production Major Interning at Exclusive Media in Beverly Hills
Thursday, July 12, 2012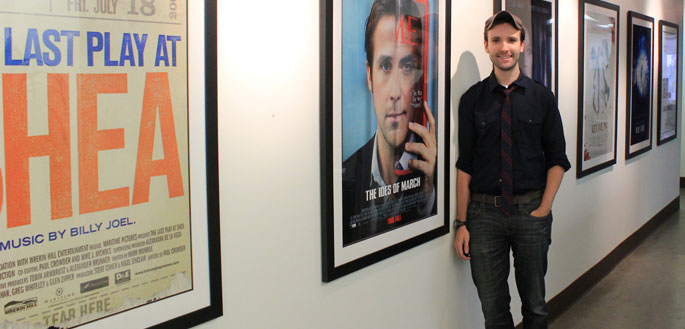 Meet Joe Balewski
Major: Cinema Production
Expected graduation: May 2013
Internship: Intern at Exclusive Media in Beverly Hills, Calif.
Hobbies/interests: Dining at Red Robin, reading, following Cleveland sports
Hometown: Independence, Ohio
Please provide an overview of your internship at Exclusive Media.
I'm working as an intern at Exclusive Media, a production company in Beverly Hills. Recent movies produced here include the The Ides of March and The Woman in Black. I'm learning how a profitable production company operates by working closely with the following departments: international sales, marketing, development and creative, production and the Oscar-winning documentary team.
Why did you choose to intern at Exclusive Media?
I chose Exclusive Media because of the hands-on internship program they provide. They're a relatively small company, nowhere near the girth of a major studio, but they see major motion pictures from inception to screen, which was a huge selling point. Because of the small size, I knew I'd have the opportunity to really get a hands-on education on how an independent production company operates. I'm not working in a mailroom or making copies all day. They allow their interns to become involved with the entire operation, which is something that was very important in my decision to intern with the company.
How have you incorporated the skills you learned at Point Park into your work as an intern?
The greatest thing I've been able to bring with me to this internship is my solid understanding of a story. Thanks to the faculty in the cinema & digital arts department, I have a thorough grasp on what makes a story work, what doesn't, how it can be improved, etc. Something I really respect about Exclusive Media is that the notion of a story plays a big part in their philosophy of what they produce or market to sell. They're not just looking for big budget movies with bankable stars; the products they produce have to include wonderful, engaging stories.
What is your favorite thing about your internship?
The free food. Also, I get to read scripts of films that are currently in production and pre-production. It's exciting to see how a story evolves from the page to the screen. But the free food is still pretty great.
Why did you choose to attend Point Park?
What attracted me most to Point Park is the production experience that first-year students get right away. Being on set for the past two years has really shown me where I belong in the creative process and allowed me to grow as a filmmaker. Brand-name film schools don't put a camera in their students' hands right away, much to the detriment of their education and growth. Point Park allows students the freedom to express themselves and get real-world experience as soon as they begin the program.
Why is your major a good fit for you?
There's nothing I'd rather do more than work in the film industry. There's something emotionally, creatively and intellectually stimulating about being on set and emerged in the creative process with your peers. It's something that you can't quite recreate elsewhere. This internship has taught me that not only are there career paths that will allow me to do this for the next 50 years or so, but my degree will allow me to make a living, which I'm quite looking forward to.
In what ways will your internship help you with your career goals?
This internship with Exclusive Media is the first step in the right direction in hopefully landing a full-time job after college. It's a great company with a respectable reputation. I know the skills I acquire on the job will make me more marketable once I graduate.
Photo by Joe Balewski