more news
Cinema program offering new major in animation and visual effects for fall 2011
Monday, November 15, 2010
Students can concentrate on animation or visual effects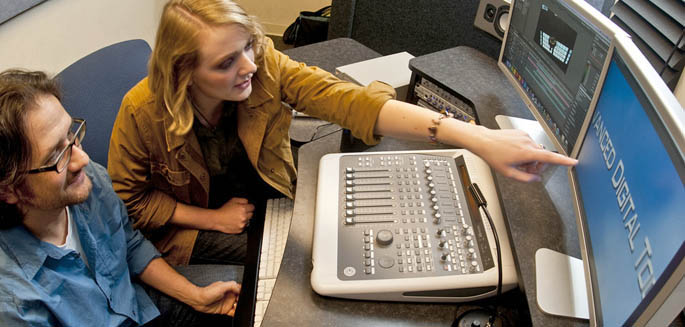 Assistant Professor Andrew Halasz and recent cinema graduate Noel Schemaier work in one of the cinema arts editing suites on campus.
Movies like "Avatar," which broke box-office records with its 3D animation and innovative graphics, have changed the face of the entertainment industry, creating new opportunities for highly skilled digital arts professionals who can dazzle audiences.
For students interested in pursing careers in animation and visual effects, Point Park has developed a new bachelor's degree in digital arts, complementing its existing cinema and screenwriting programs. Twelve students will be admitted for fall semester 2011.
Student Work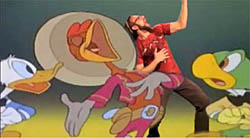 Click image to play examples of student work in digital arts.
Related links
Digital Arts Program
Cinema Arts faculty
Undergraduate Admissions
Request Information
The new digital arts curriculum offers two concentrations -- animation or visual effects -- both with a strong emphasis on the art of storytelling.
"The program utilizes the Conservatory approach to education. Students will get a full four years of study in their major, enabling them to work on animation and visual effects projects all the way through from their freshman to senior year of study," said Nelson Chipman, assistant professor and chair of the Department of Cinema and Digital Arts within the Conservatory of Performing Arts.
Point Park's program also emphasizes collaboration and interdisciplinary study.
"Digital arts students will work with students in cinema production, who are creating live-action film, as well as screenwriting majors, who are writing the scripts," said Andrew Halasz, assistant professor of cinema and digital arts. "The idea is that all of these programs will learn to work with one another, ultimately functioning as a Hollywood studio would in a real-world production environment."
At Point Park, that environment includes Cinema Arts production equipment and facilities, including fully-outfitted editing suites and a Mac computer lab.
Graduates of the program will head into an industry projected to have an average increase in jobs of 18 percent per year through 2018, according to the U.S. Bureau of Labor Statistics.
Point Park alumna Noel Schemaier graduated in May 2010 from the cinema and digital arts program with a concentration in directing. As a student, she took courses in intermediate and advanced digital arts and said the new digital arts major will be a helpful to anyone looking to focus in that area.
"There are so many intricate technical aspects to learn within the digital arts that a student wishing to focus on special effects and animation really needs to dedicate an intensive four years to master the skills necessary to compliment their collaborative work with the other programs," she said.
Schemaier feels Point Park prepared her well as she considers career options.
"One of the reasons I really enjoyed the classes I took at Point Park is because I felt they taught me some fun yet practical and marketable skills," she explained. "I've learned some very useful programs all of which can translate into work such as professional graphic advertisement for print, online, and motion-based ad graphics, website design and construction, professional DVD design and interactivity, short animations, and special effects. All of these skills I've used for personal projects as well as work on other people's films and freelance work."