more news
Cinema Student Working as Video Intern at Pittsburgh Zoo & PPG Aquarium
Tuesday, August 14, 2012
Meet Kelsey Sylvester
Major: Cinema Arts
Internship: Pittsburgh Zoo & PPG Aquarium
Expected graduation: May 2013
Hometown: New Brighton, Pa.
Provide an overview of your internship.
I am the video/media intern at the Pittsburgh Zoo & PPG Aquarium. I'm responsible for shooting video at various events and activities. I then edit the footage into short videos to help market the zoo.
How have you incorporated the skills you've learned at Point Park into your internship?
As the video intern, I constantly have my hands on a camera to capture the best possible footage. My experience working as a videographer for Point Park's Marketing Department definitely prepared me for this internship. I learned what questions to ask and what kinds of images to capture. I've also learned about story in my classes, and am able to incorporate some sort of story to make the videos serve a purpose.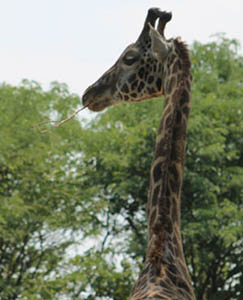 Photo by Kelsey Sylvester
What do you like most about your internship?
My favorite thing about this internship is the opportunity to film the animals. I love being able to capture them on camera to share with other people.
Why did you choose to attend Point Park?
Point Park has a growing cinema program that I found was a great fit for me. Class sizes are small and there's the opportunity to receive hands-on training using the facilities and equipment provided. The location of Downtown Pittsburgh is a perfect fit for me. I couldn't be happier with my choice of a college.
Why is your major a good fit for you?
I love creativity. Film involves so many different sets of skills that all come together to create one solid product. Being able to take an idea from start to finish, from script to screen, is really a rewarding feeling.
In what ways do you think this internship will help you with your career goals?
After I graduate from Point Park, I would love to work in an environment involving animals and nature. I'm grateful for the opportunity to have learned how to shoot footage while staking out animal exhibits at the zoo. I've been involved with mostly narrative projects in my classes, so making videos that revolve around animals was something new. I really enjoyed this experience.
Video by Kelsey Sylvester