more news
Cinema Students Honored as Finalists for Academy Awards
Thursday, May 17, 2012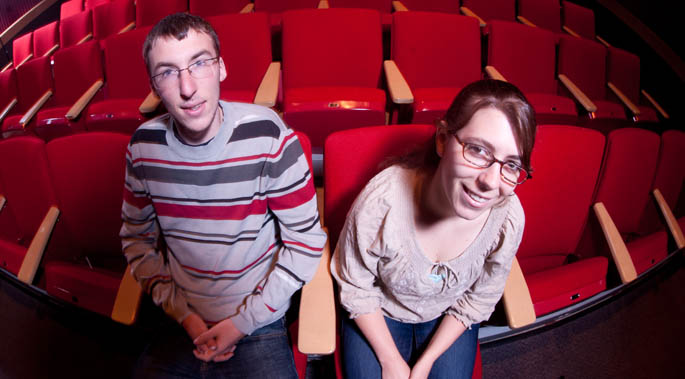 Cinema and Digital Arts graduates Mark Christian and Madeline Puzzo.
It's a first for Point Park's cinema & digital arts department. Recent graduates Mark Christian and Madeline Puzzo's senior thesis film, Requited, was selected as a finalist for the 2012 Student Academy Awards by the Academy of Motion Picture Arts and Sciences.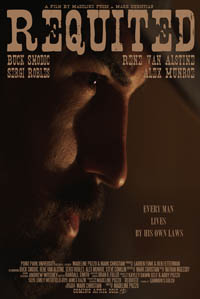 Film poster
Related links
Cinema & Digital Arts Program
Cinema Portfolio Requirements
Apply to the Conservatory
"Requited is a technically sophisticated film," said Jeremy Braverman, associate professor and directing concentration coordinator. "What you see on screen is something you will pay for to see in a movie theater."
Christian, the film's cinematographer and writer, from McLean, Va., graduated in May 2012 with a concentration in cinematography. Puzzo, director and production designer from Tuscon, Ariz., graduated with a concentration in directing.
Christian and Puzzo credit Point Park for providing them the necessary tools to make a quality film. "The best thing about the program is that you are constantly making movies beginning in your first year," said Christian. "You are studying under industry professionals that are honest and critical," Puzzo added. "It's the closest thing to working in the real world without being in it."
The students worked individually with their faculty mentors to develop and produce Requited, an authentic Western, as part of the Production 4 project. John Rice, senior teaching artist, advised Christian and Braverman advised Puzzo.
"The program is designed on an industry model that emphasizes collaboration in specific roles such as director, producer, cinematographer, editor, sound designer and screenwriter," said Rice. "Mark was able to apply just about all of the skills we introduce in production courses to this film."
Braverman said Puzzo not only served as director, but as a production designer who created a believable period piece. "I've worked with other students with ambitious ideas, but Mark and Madeline cleared this project with room to spare. Their ability to work together, partner creatively and produce something greater than themselves is incredibly impressive."
The cast and crew, including many Point Park students, traveled to Gammons Gulch in Benson Ariz., and Old Bedford Village in Bedford, Pa., during their winter break to shoot the 12-minute film.
Christian and Puzzo said their best advice for students is to apply what you learn in the classroom to your projects. "You can get straight A's each semester, but what really matters is applying what you've learned to your film. The program teaches you what works and doesn't work on set and that's the best way to learn how to make a film."
• Point Park Student Film Named as Finalist for Student Academy Awards
Video: Requited Trailer
Video: 'Requited, Behind the Scenes'
Video and film poster courtesy of Mark Christian