more news
Cinema Workshop Class Produces Short Films in London and Paris
Wednesday, July 2, 2014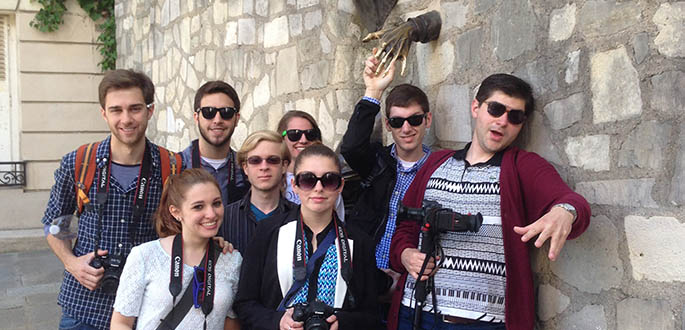 Pictured above (back row) Kyle Rawlinson, Colton Bolender, Megan Kuntz, Angelo Re, (front row) Dominque Carino, Timm Romine, Bethany Barich and Owen Miller. Check out more photos in the gallery below.

Point Park's Cinema Workshop class traveled abroad at the end of the spring semester to study British and French filmmaking and culture. Senior Teaching Artist John Rice and the group of eight students explored London, Paris and Northern France. As part of the class requirements, students had to prepare, shoot and edit a short film during their trip.
Photo Gallery
---
Related Links
Cinema arts program
Schedule a campus visit
Apply online free
Request information
Here's what the group had to say about their experience:
"The idea of traveling to and making a film in a new place is enticing to filmmakers. Cinema students haven't had any foreign travel courses prior to this, and I was interested in making something a little more rigorous so that there was a practical production experience component to the course. The opportunity to see the students become excited by the change in scenery and their take on these great places was really a joy for me." - John Rice, senior teaching artist.
"This trip as a whole was a rewarding experience. My educational experience at Point Park has given me the confidence I needed when I'm behind the camera that helps me make my story come to life. Filming in London was very easy and a lot of fun." - Bethany Barich, cinema production major.
"I learned to just go for things as they were available. Guerrilla filmmaking. I tend to stick to the computer and don't usually go out in the field with a camera, so this trip was an experience in stepping outside of my typical boundaries and exploring the environment." - Timm Romine, cinema production major.
"My favorite part of the trip was the day that we met with Jean-Max Causse, the owner of a well-known art house theater in Paris. It was fascinating to hear how he learned his love of cinema from French New Wave figures and it was truly inspiring to talk with someone so passionate about the art of film." - Dominique Carino, cinema production major.
In addition to the time the students spent producing their films, they enjoyed academic and cultural visits to Accent London, The Mill, Cinematheque Francaise, Notre Dame Cathedral, Montmartre district of Paris, the Eiffel Tower and a guided visit to the Normandy Invasion beaches during preparations for the 70th anniversary commemorations.