more news
Class projects exhibited at global conference in Prague
Friday, September 2, 2011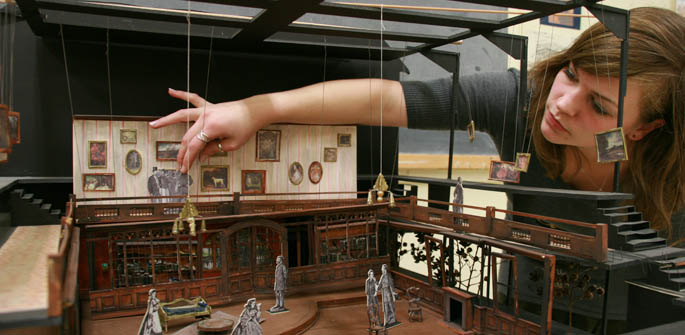 Lindsey B. Mayer works on her model of the set for An Enemy of the People, which was chosen for the student exhibit at the Prague Quadrennial of Performance Design and Space.
Scenic design student Lindsey B. Mayer has a great story to tell when people ask her "How was your summer?"
Lindsey, a senior from Philadelphia, spent two weeks in the Czech Republic after her design was selected to be part of the student exhibit at The Prague Quadrennial of Performance Design and Space, the world's largest theatrical design conference and festival, which takes place every four years.
"I was fully shocked," says Lindsey of her reaction to receiving the news that her design was chosen from more than 450 submissions from undergrad and grad students in the U.S. "I read the email at least three times to make sure I comprehended it. I couldn't stop smiling all day."
Related links
Technical theatre/design program
Apply to the conservatory
Schedule an interview
Schedule a campus visit
Request information
The set design Lindsey submitted was a model for An Enemy of the People, which she created as part of her final for Scene Design I class. The students could choose any Pittsburgh theater space to place their work, and Lindsey chose the New Hazlett Theater.
"The more industrial look of the space is a great choice for the piece, but building a 1/2"=1'0" scale model of this quite large theater is a huge challenge," says Associate Professor Stephanie Mayer-Staley, who taught the class. "Lindsey went beyond the expectations of the class and showed herself to be quite ambitious and determined."
Lindsey was accompanied to Prague by a group that included Mayer-Staley; Point Park students Cassandra Bass, Maddie Bucci, Madison DeCoske and Shiori Saito; adjunct instructor Mark Staley; and Point Park alum and freelance lighting designer Scott Nelson.
When the group arrived at the student exhibit at the Quadrennial, they discovered another familiar model on display. Richard Preffer, a Point Park senior, had submitted a piece to be exhibited but never received an acceptance letter; however, his design of An Enemy of the People was in the exhibition.
"When we perused the display, we were amazed to also discover Richard's work," says Mayer-Staley, who added that Richard's model, which was set in the City Theater's main stage, was also done for her Scene Design I class. "He was unfortunately not able to join us in Prague."
Lindsey says attending the Quadrennial was a "surreal experience."
"The Quadrennial was very humbling," says Lindsey. "There were so many amazing artists, and they were all there to provide a different perspective and opinion on our world."
Adds Staley-Mayer, "We witnessed unbelievable new ideas in theater architecture and soaked up productions and improvisations that rocked our world because they were so different from the theater we are used to. It sometimes left us speechless."
While at Point Park, Lindsey has been a part of several productions, including designing the set for The REP production of The Lonesome West, which received rave reviews from the press (read reviews from the Post-Gazette, Tribune-Review and Pittsburgh City Paper.)
"The main reason I chose Point Park University over other programs is the fantastic hands-on experience. If I had gone elsewhere for my education, I don't think I would be graduating with this many designs under my belt and this many contacts in the business," Lindsey says. "If you are prepared to work, Point Park will see that you get the best opportunities available. They definitely took care of me."