more news
Concert features signature works by dance masters
Tuesday, February 16, 2010
Critically acclaimed annual performance by Conservatory Dance Company lets students work with top artists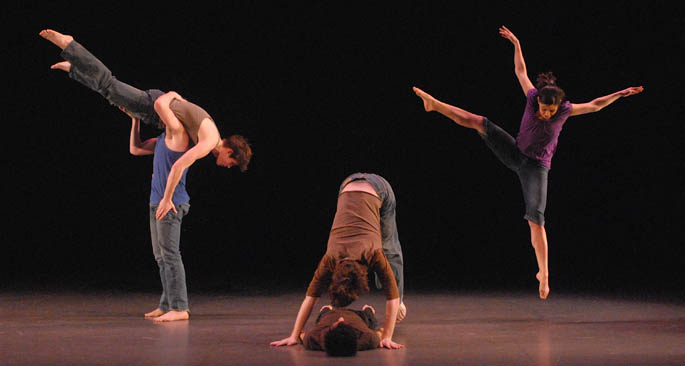 Point Park University's Conservatory Dance Company performed its annual concert at the historic Byham Theater in the Cultural District Feb. 11-13, garnering the company and the dance program critical acclaim ( read review here). The concert featured signature works choreographed by dance masters Gerald Arpino, Doug Varone, David Parsons and Daniel Ezralow, giving students the chance to work with and perform challenging works created by artists who have shaped the world of dance.

Gerald Arpino's Light Rain, a company ballet piece originally choreographed for The Joffrey Ballet's Silver Anniversary in 1981, was set by Maia Wilkins. When describing the piece, Arpino said, "It is my gift to these talented youngsters who are the artists of the Eighties. I am inspired by their modes and rituals, their passions." The piece is choreographed to an original "East-West fusion" score by Douglas Adamz and Russ Gauthier. Point Park is one of the first universities to have the permission to perform one of Arpino's works.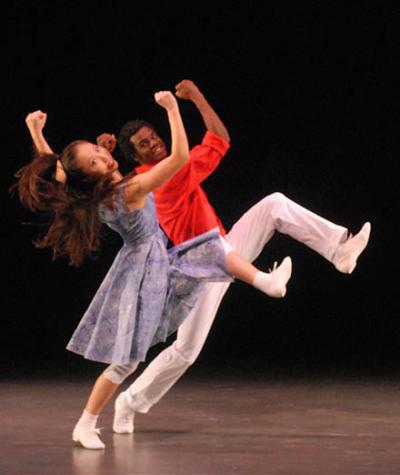 The Constant Shift of Pulse , choreographed by Doug Varone and set by Daniel Charon, is a modern work created on Julliard students in 2006. It is an extremely athletic piece requiring great stamina for the large ensemble cast. This masterwork is set to John Adams's "Hallelujah Junction."

David Parsons's Nascimento, set by Jason McDole, is a tribute to the Brazilian composer Milton Nascimento who wrote the score for the piece after seeing Parsons Dance Company perform. An exciting modern work with a Latin feel, Nascimento is a colorful and exuberant piece set to seductive samba rhythms.

SUPER STRAIGHT is coming down, choreographed by Daniel Ezralow and set by alumna Cheryl Mann, is a contemporary jazz piece for a small cast. This dynamic piece focuses on character interaction and the portrayal of personalities through dance. Mann previously performed the work with Hubbard Street Dance Company.

Read more about the show in an article featured in the Pittsburgh Post-Gazette .
Article by Chris Hays
Photos by Drew Yenchak
Related Photos

Related Videos
Click on the videos below to hear more from the repetiteurs who set the works on the students at Point Park and from one of the cast members and to catch a glimpse of the concert.