more news
Conservatory Dance Company Performs Impressive Lineup at Byham Theater
Tuesday, April 24, 2012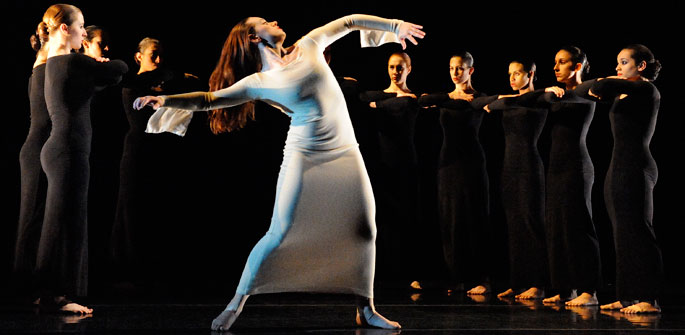 Point Park students dance on the Byham stage in the heart of Pittsburgh's robust cultural district.
Point Park University's Conservatory Dance Company offers dance majors the opportunity to work with both legendary and sought-after contemporary choreographers in its signature concert, Conservatory Dance Company at the Byham.
This year's show featured the works Bow Out by Val Caniparoli, Heretic by Martha Graham, Sky by Kevin Iega Jeff and Minus 16 by Ohad Naharin.
Senior dance major Mikelle Rindflish performed as the soloist in Graham's Heretic and in Naharin's Minus 16.
"This Byham experience has undoubtedly affected my development as a dancer and artist, and has been a turning point in my training in preparation for a professional career in dance," Rindflish said. "I have been challenged artistically and physically in my roles in both pieces that have allowed me to discover new aspects of my craft."
Working with outside guest artists who visited the University to set the works and conduct master classes, Rindflish and others were exposed to seasoned dance professionals who offered invaluable guidance and training.
"In rehearsals for Heretic, Judith Leifer and Diane Gray were so wonderful in helping me find my voice in such an expressive role; that I will never forget," Rindflish reflected. With regard to Minus 16, Rindflish commented, "We have been so fortunate to have Danielle Agami, former dancer of Batsheva Dance Company, working with us on the piece. Rehearsals have been such a learning and growing experience for us all. In each piece no matter how long or short the process, we create such a strong bond and as a body of dancers we take the stage together."
• Read a Pittsburgh Post-Gazette dance preview of 'Conservatory Dance Company'