more news
Conservatory Dance Company premieres multimedia dance work
Thursday, December 10, 2009
'The Bench' chronicles one couple's journey through life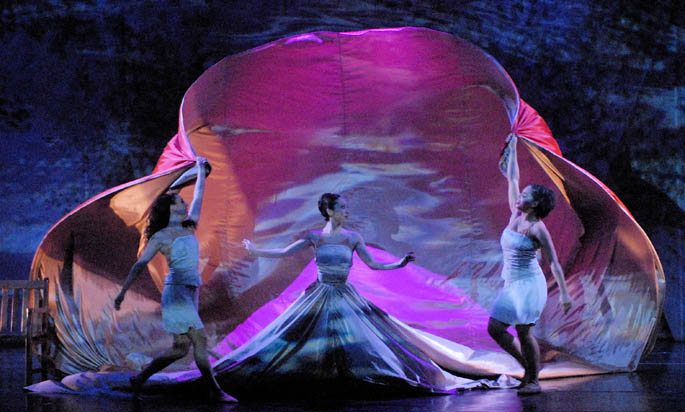 It's always exciting when a company has the opportunity to premiere a new work. The world premiere of dance faculty member Kiesha Lalama-White's The Bench, presented by the Conservatory Dance Company, is no exception.
The Bench celebrates family and what makes us who we are. An unforgettably moving multimedia dance experience featuring a live orchestra, The Bench beautifully chronicles the journey of one couple from their first encounter to each significant moment thereafter as they experience the trials and triumphs of life.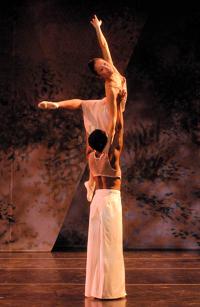 The Bench is more than just a family experience: it's a family accomplishment as well. The piece was choreographed by Lalama-White and the music was composed by her cousin, accomplished jazz musician David Lalama. Another of Lalama-White's cousins, Grammy Award-winner Ralph Lalama, will play in the orchestra.
In addition to the live music, artist Michael Dickins has created intimate, telling images that are used as video projections to further the story. The original pieces are on display in the lobby of the theatre. The production also features a series of famous quotes that punctuate the work's particularly moving moments.
The strong family emphasis of the piece and the fact that it is a multimedia experience provides a large number of additional opportunities for The Bench, creating an adventure that began months before the show opened. A documentary was created at various stages of the production to chronicle how a production such as The Bench is developed. The videos were posted on a new microsite created specifically for the piece. The microsite also has additional information on the production, ticket information and is home of a contest where patrons can enter to win a weekend getaway package.
A Facebook fan page was also created for the show. The page includes the documentary videos, photos from rehearsal, and Kiesha's comments and thoughts throughout the production process.
Lalama-White will be featured on KDKA's Pittsburgh Today Live on Tuesday, Dec. 15. The show airs at 9 a.m.
The Bench opens at Point Park University's Pittsburgh Playhouse on Friday, Dec. 11. It runs Dec. 11 - 13 and 18 - 20. For more information, previews/reviews or to purchase tickets, visit www.pittsburghplayhouse.com or call 412-621-4445.
Photos courtesy of Drew Yenchak
'Bench' videos: Production and interviews
See additional videos about "The Bench" at the Pittsburgh Playhouse YouTube channel.