more news
Conservatory Dance Company presents four premieres
Thursday, November 10, 2011
Contemporary Choreographers program runs two weekends in November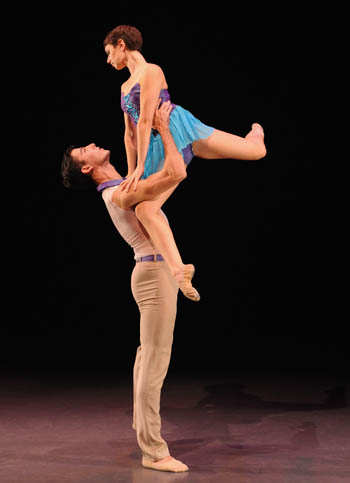 Oscar Carrillo and Molly McMullen perform Alan Hineline's Twist.
Point Park University's Conservatory Dance Company presents Contemporary Choreographers Nov. 11-13 and Nov. 18-20 at the George Rowland White Performance Studio on the downtown campus. The program features world premiere works by Sidra Bell, Darrell Grand Moultrie and Alan Obuzor, and a Pittsburgh premiere by Alan Hineline.
Bell's new work, LILY, looks at female portraiture imaging and satire in contemporary cultureand is set to music by various artists. Bell is the artistic director of Sidra Bell Dance NY, in addition to being an award-winning choreographer and master teacher.
The Other Side of Now, a premiere work created by Obuzor, is a high-energy, vibrant contemporary ballet piece containing music by Toto Bona Lokua, Yo-Yo Ma, Silk Road Ensemble, Ayub Ogada and Teresa Bright. Each of the five sections is unique but made to fit together as a complete work. Obuzor is Pittsburgh native who danced with Pittsburgh Ballet Theatre. He teaches at several schools throughout the city and is the founder and artistic director of Texture Contemporary Ballet.
Moultrie's Modes Of Expression is a new piece created for Point Park, set to music by Chiel Meijering and Mikael Karlsson. "It is a pure dance work that sends the dancers cutting through space while exploring different emotions and feelings one encounters while embarking on the journey to becoming a better artist." Moultrie, who is fast emerging as one of America's most sought-after choreographers and master teachers, has performed on Broadway and is one of the youngest African American choreographers working in both the ballet and modern dance genres.
Twist, by Alan Hineline, was created for the Alabama
Ballet in 2003. Twist is a collaboration between Hineline, composer Jerome Begin and fashion designer Sebastian St. John. Hineline describes the piece as "an abstract work that uses repetitive structure as a thorough line for each of the four energetic movements." A sought-after choreographer and ballet master, Hineline is the CEO and a resident choreographer with the Central Pennsylvania Youth Ballet.
Contemporary Choreographers performances run for two weekends: Nov. 11 through Nov. 13 and Nov. 18 through Nov. 20 on Fridays and Saturdays at 8 p.m. and Saturdays and Sundays at 2 p.m. Tickets are $18 to $20 (special student and group rates are available) and can be purchased by calling the Pittsburgh Playhouse box office at 412-392-8000 or online at www.pittsburghplayhouse.com.