more news
Conservatory dance concert receives critical acclaim
Friday, March 11, 2011
Students perform works by dance luminaries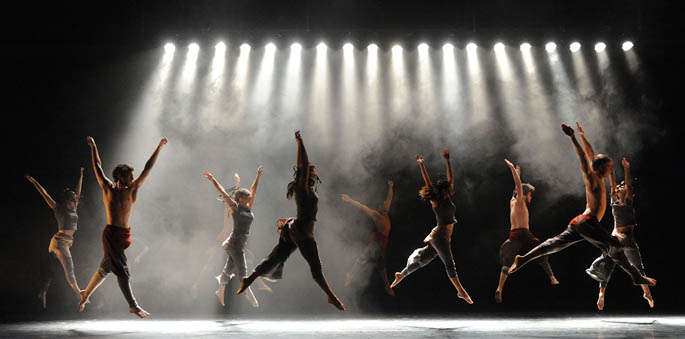 March 2011
Related links
Point Park dance program
Applying to the Conservatory
Admissions information
Request information
Point Park University's Conservatory Dance Company performed its annual signature concert at the Byham Theater in Pittsburgh's Cultural District Feb. 24-26 to critical acclaim. The show featured signature works by dance luminaries George Balanchine, Bill T. Jones, Trey McIntyre and Toru Shimazaki.
George Balanchine's Valse Fantaisie is set to music by Mikhail Glinka and has been described by New York Times critic Anna Kisselgoff as "a windswept pattern of pure dancing, attuned to the joyfulness of its waltz rhythms." Student cast members had the opportunity to work with Paul Boos, a repetiteur with the George Balanchine Trust, who has worked all over the globe. Watch an interview with Boos.
The Bessie Award-winning D-Man in the Waters by Bill T. Jones was created in honor of a company member, Demian Acquavella, who died of AIDS. It is an uplifting and accessible celebration of music and life set to the music of Felix Mendelsohn. It was set on the students by guest artist Nicole Smith, professional dancer and choreographer, who is currently working and training with the Bill T. Jones/Arnie Zane Dance Company and touring with several others. Watch an interview with Smith.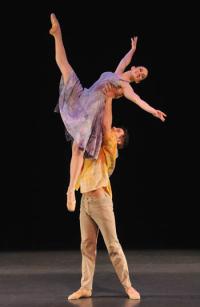 Trey McIntyre's Blue Until June Suite was created in 2000 for the Washington Ballet. It is a sultry, bluesy, emotionally fluid piece set to music by the legendary Etta James. Hear more about the piece from associate professor and rehearsal director, Jay Kirk.
Bardo by Toru Shimazaki was created for and premiered by Hubbard Street Dance Chicago in 2006. It is set to international rhythms by Dead Can Dance and presents a mystical and mysterious journey between life and the afterworld. Passionate, fiery and fiercely athletic, the dancers in Bardo weave their way through daring partnerships and striking visual images. Cheryl Mann, Point Park alumna and former dancer with Hubbard Street Dance Chicago, set the work on the students. Watch an interview with Mann.
In her review, veteran dance critic Jane Vranish commented, "…viewers were able to see much of the choreography for what it was intended and a tribute to these young dancers and a new standard of professionalism."
More press about the show:
Videos
Hear from two dance majors and cast members about their experience performing in the show and training at Point Park.