more news
Conservatory Theatre brings 'Camino Real' to Playhouse
Tuesday, November 23, 2010
Student cast uses experimental techniques for Tennessee Williams' phantasmagorical play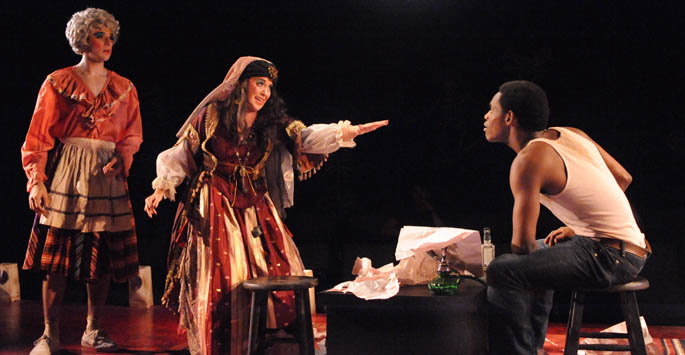 A scene from Conservatory Theatre Company's production of Camino Real.
Camino Real is a lesser known work by playwright Tennessee Williams, and his most experimental work. This phantasmagorical play unites a cadre of literary figures in a purgatory-like waiting room that is both a nightmare and an inescapable condition. Point Park University's Conservatory Theatre Company takes the journey as part of its 2010 - 2011 season at the Pittsburgh Playhouse.
" Camino Real is the last stop," said director George Ferencz.
Photo Gallery
Click image for more photos
Related links
Point Park's Theatre Program
Applying to the Conservatory
Undergraduate Admissions
Request Information
Ferencz has been the resident director of La Mama, an experimental theatre in New York City, for the last 30 years in addition to having previously taught undergraduate and graduate-level theatre at Colombia, Yale and other institutions. After meeting Tennessee Williams and developing a desire to present a new interpretation of Camino Real, he decided to stage the play at Point Park.
"Most of the characters in the play are old," said Ferencz. "I was very interested in emphasizing people who are heroes and have lost their relevancy."
But that wasn't the only thing Ferencz was interested in. He also wanted to apply his techniques and approach to a production that had not been well-received under traditional approaches.
"I wanted to apply experimental techniques to an experimental play," he said.
For the production, that means having the staging be as larger-than-life as the plot. Basing the interpretation on Mexico's Day of the Dead, the play includes ghouls, zombies and the like to exaggerate the theme of death.
"It's a playground," said David Berry, a sophomore musical theatre student playing the role of Kilroy. "I love working in a Conservatory where we're brave enough to take a show like this on."
The students have their fair share of work adapting to experimental technique as well. Instead of traditional method acting and focusing on the internal, the students are focusing on the external as a way to portray their characters.
"It gives it more of a sense of the fantastic," said Ferencz.
But this approach doesn't just enhance the performance; it has expanded the students' educational experience as well.
"It enhances everything we're learning," said Berry. "You need to perform to understand the craft and the art."
Although this is a challenging work for them, the students seem to be rising to the occasion.
"They seem open to anything I throw at them," said Ferencz. "It's very exciting."
"The work forces the actors to play without inhibitions. It has truly challenged me to think outside the box," said Berry.
Without a doubt, the Camino Real's unique plot and direction has generated enthusiasm and high expectations from all parties involved.
"Come expecting a surprise," said Berry. "It's an experience every theatre-goer needs to have."
Camino Real runs at Point Park University's Pittsburgh Playhouse Dec. 2-12.

'Camino Real' videos