more news
Conservatory Theatre opens world premiere musical
Thursday, February 25, 2010
New musical Time After Time makes its debut at Playhouse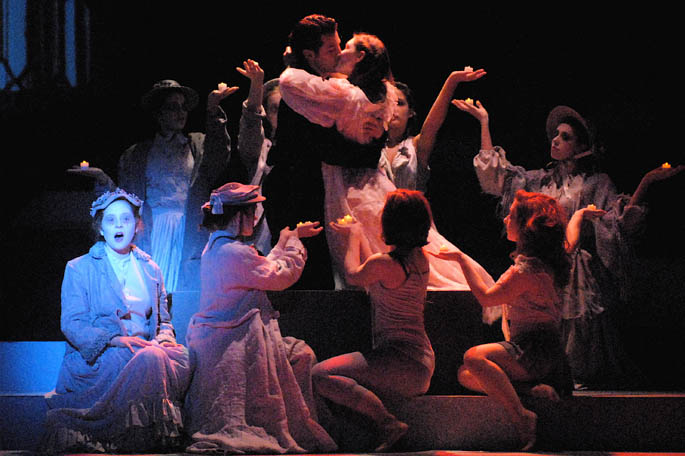 Staging the world premiere of the new musical Time After Time has been an incredible journey for the cast of students from the Conservatory of Performing Arts, filled with challenges and opportunities while working with a team of award-winning, noteworthy guest artists.
Under the direction of Gabriel Barre, the students are developing the show's songs and characters for the first time. Since the musical is making its debut, working on the show has been a great creative opportunity and challenge for the actors, encouraging them to grow as artists.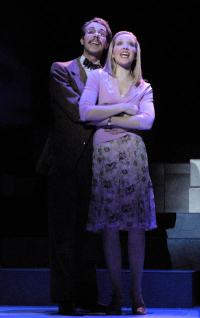 (Lead cast members John Wascavage and Taylor Chalker discuss their experiences in video interviews below).
Described by Barre as "a good, old-fashioned, contemporary, romantic, science-fiction thriller," Time After Time features book and lyrics by Stephen Cole and music by Jeffrey Saver; it based on the Karl Alexander novel of the same name.
The story follows John Leslie Stephenson, also known as the serial killer Jack the Ripper, who has escaped authorities using a time machine invented by his friend H.G. Wells. In an attempt to return Stephenson to his proper time, Wells follows him into the future, only to fall in love with the murderer's next victim. Filled with magnificent songs, magical time travel sequences and suspense, Time After Time probes the roots of good and evil and the dynamic of relationships.
Barre is no stranger to the stage as both an actor and international director. Most notably, he directed the off-Broadway production of The Wild Party which was nominated for numerous Outer Critics Circle and Drama Desk Awards; as an actor, he was nominated for a Tony for his performance in Starmites. He also directed the recent national tour of Pippin.
Saver has been the music director or pianist for 13 Broadway shows, in addition to appearing on several cast albums. He is currently a teaching artist-in-residence at the University where has been involved in the past productions of Can-Can and Assassins.
Cole has written several other musicals throughout his career, including After the Fair, Dodsworth, The Night of the Hunter, Saturday Night at Grossinger's and The Road to Qatar and worked with such artists as Chita Rivera, Christine Baranski, Michael Rupert, Marlo Thomas, and Christine Ebersole, among many others.
Time After Time runs February 26-28 and March 11-14 at Point Park University's Pittsburgh Playhouse. Tickets and more information are available at www.pittsburghplayhouse.com.
Related links
Videos