more news
Conservatory Theatre stages 'Evita' with unique casting
Wednesday, March 9, 2011
Key roles cast with multiple student actors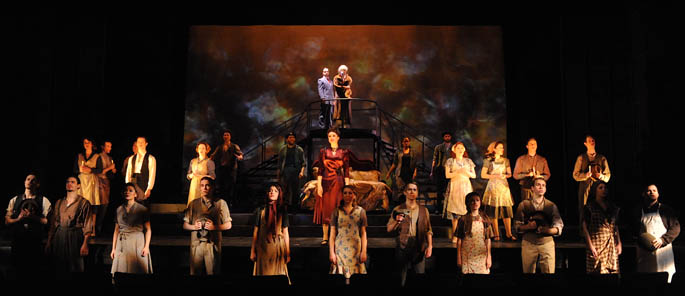 Evita, the stunning Tim Rice-Andrew Lloyd Webber musical, is the final show of the Conservatory Theatre Company's 2010-2011 season. Director John Shepard, theatre department chair, faculty member and performer, has included a unique twist in this particular production that will surprise audiences and provide greater insight into the musical's leading lady.
Theatre at Point Park
Undergraduate Programs
Master's degree in acting
Applying to the Conservatory
Request Information
Shepard has double-cast the role of Eva Peron, in addition to quadruple-casting the role of Che. Two different actresses will play Eva: one as the younger actress and radio personality, and the other as the more mature first lady. The four students playing Che (three actors, one actress) are the narrators of the show, in addition to showing the multiple dimensions of Eva's subconscious.
Although this is untraditional for both this show and the school, it has provided the students with an opportunity to grow and develop as performers.
"At first it was like, 'What?' I think now it's clearer to them," said Shepard. "They're really rising to the occasion."
But it's not just the leads in this show that are excelling; it's the ensemble as well. It's a large cast, with almost 30 student performers.
"It's an incredible ensemble…I love working with the students. They're really talented," said Shepard.
The Conservatory's wealth of talent allows the University to perform productions of this scope, and to experiment with multiple-castings for such an iconic production.
"One of the reasons I can make these changes is because of the enormous talent pool," said Shepard. "You can't do this in the professional world."
This production of Evita is also unique due to the inclusion of documentary-style video clips that have been incorporated into the script, such as in "Don't Cry for Me, Argentina." The video shows both the perspective of the crowd and Eva's perspective, something that wouldn't be highlighted in a more conservative adaptation.
"It's a visual spectacle," said Shepard.
Evita is being performed March 4-6 and 17-20 at Point Park University's Pittsburgh Playhouse.
Evita isn't the only production Shepard's working on right now. He's also in Pittsburgh Public Theatre's Circle Mirror Transformation, by up-and-coming playwright Annie Baker running March 3 through April 3.
The show covers a six-week acting class, and the profound impact the class has on the lives of the students. Also performing with Shepard is COPA associate professor Bridget Connors and alumni Dan Krall and Dana Griffith.