more news
Conservatory Theatre stages 'Thoroughly Modern Millie'
Tuesday, November 2, 2010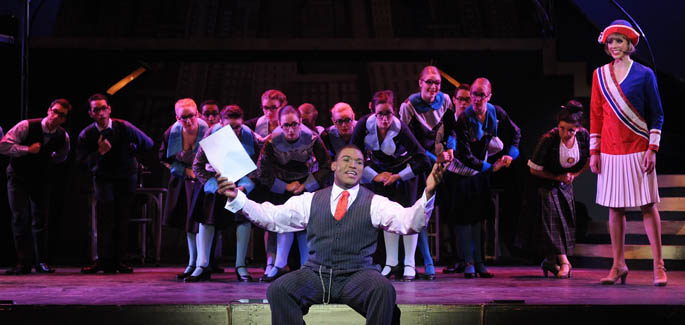 The Conservatory Theatre Company kicks off its 2010-2011 season with the musical Thoroughly Modern Millie, with a cast of 28 student performers.
Point Park University's Conservatory Theatre Company kicks off its 2010-2011 season with Thoroughly Modern Millie, winner of six Tony Awards.
Related links
Point Park's Theatre program
Applying to the Conservatory
Undergraduate Admissions
Request information
It's 1922 and Millie Dillmount certainly isn't in Kansas anymore. Perhaps the first feminist musical ever, Thoroughly Modern Millie is the high-spirited tale of a young ingenue's arrival in New York City. She comes of age as the flapper era does, when she discovers a big city full of intrigue, jazz and a society that's rules of love and behavior are in the midst of a dramatic change. Forever. With a bouncy score, this quintessential Tony Award-winning musical will have you tapping along long after Millie's story is told.
"It has something for everyone," said Jessica Ernest. Ernest, a senior musical theatre major, plays the role of Millie. "Music, dance, comedy, danger - a little something everyone will enjoy."
For Ernest, one of the most important aspects of the character is the journey Millie goes on as she learns to trust and accept herself. Millie came to the city with preconceived notions that she has to re-evaluate and experience emotions she wasn't expecting.
"I just love being this character," she said. "Lots of people can relate to Millie because she's open and willing to accept that she might be wrong."
Another thing that Ernest loves about this show is the learning process of working on a production. The styles and methods she uses in rehearsal reinforce her lessons in class.
"I know I'm going to learn about the show and my character, but also about acting in general," she said.
Thoroughly Modern Millie is directed by Scott Wise, assistant-directed and choreographed by Jeremy Czarniak and music-directed by Doug Levine. They lead a cast of 28 student performers.
Thoroughly Modern Millie opens Friday, Oct. 29 and runs through Sunday, Nov. 7. For more information, visit www.pittsburghplayhouse.com.