more news
Conservatory Theatre stages world premiere of Marathon 33
Friday, February 24, 2012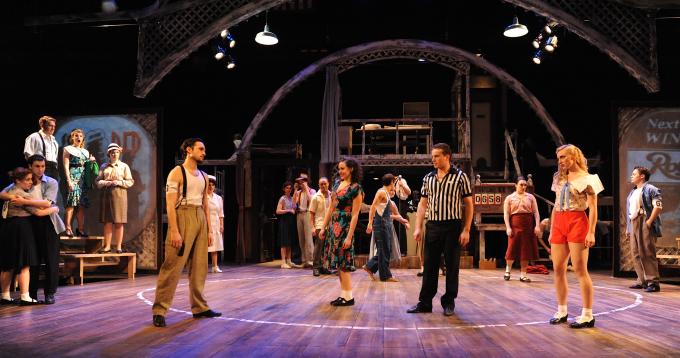 Point Park students make up the cast and crew of Marathon 33 (M33), on stage at the Pittsburgh Playhouse.
When Grant Haralson was searching for the perfect college, he chose Point Park University due to its well-rounded theatre arts program.
"[At Point Park], I really think you have the opportunity to be a triple threat performer," Haralson said.
The junior musical theatre major will showcase his singing, acting and dancing skills on the Pittsburgh Playhouse stage this month.
Haralson will perform in the ensemble of Conservatory Theatre Company's world premiere of Marathon 33 (M33), a production co-adapted, written, directed and choreographed by Broadway veterans Tome' Cousin and Peter Gregus. Marathon 33 (M33) tells the story of Hollywood star June Havoc, who stumbled into the world of dance marathons after leaving her life as a vaudevillian.
The production, which runs Feb. 24 through March 4, gives students the opportunity to not only work under two accomplished professionals but also a chance to act in a new work. The production features a cast of 27 students, with another 10 working as the crew.
Sophomore musical theatre major Katherine Oxman, 20, is a swing in the show, as is Haralson. That means means they must learn several roles in case someone in the cast is unable to perform. Oxman enjoys acting in a developing show.
"I've never worked on a new work before," Oxman said. "It's changing and evolving everyday. There is no previous cast to look up. You are making your way on your way."
Brandon Taylor, a sophomore musical theatre major, is grateful for the chance to act in a world premiere of a work.
"We genuinely get to create something from the ground up," said Taylor, who plays the role of Patsy.
Another aspect of the show exciting students is the Marathon 33 (M33) mini-website , which will give a behind-the-scenes look at the show's progress up until its premiere. Cast and crew video blogs, a live Twitter feed, photographs, background information on Havoc's life and original documents given to Cousin and Gregus during their meetings with Havoc will populate the website.
"I think it [the website] shows immense quality," Oxman said. "This is a quality production and playhouse. We really know what we're doing here and [the crew] really stresses to be professional. This is such a good piece, and to have a website showing the process … it's just a little gift."
Taylor feels the website can show prospective students what it's like to part of a Conservatory Theate production.
"The website shows the inner workings of a Point Park rehearsal process and prepares them [prospective students] for what they're getting into," Taylor, 20, said. "It's good for any prospective student to know where they're going and what type of projects they'll be working on."
Article by Nicole Chynoweth, journalism major