more news
COPA dean teaches at film school in Prague
Wednesday, April 27, 2011
Fred Johnson, acting dean of the Conservatory of Performing Arts, recently returned from guest teaching at one of Europe's top film schools: The Film and Television Academy of the Performing Arts (FAMU) in Prague.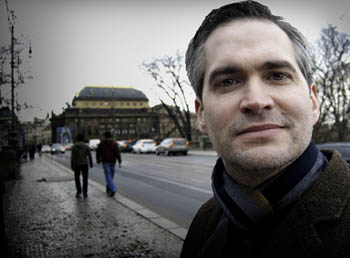 Fred Johnson in Prague. The National Theatre, across the street
from FAMU, is in the background.
Johnson, who has more than 15 years of experience writing and directing, is no stranger to the Czech Republic.
In 2006, he screened his documentary Brother Gordon at the One World International Human Rights Documentary Film Festival in Prague. On a return visit to the city, Johnson met some people from FAMU and suggested the idea of teaching a condensed class there on alternative storytelling. They agreed.
"The point of this class was to go beyond the traditional storytelling structure, to show you how you can break the rules and still make a successful film," Johnson said.
In Johnson's Alternative Storytelling class, there were 17 students from the Czech Republic, Denmark, Finland, South America, Spain, and the United States. Some were in the bachelor's program, others were getting their master's, and several were in the international program.
"Before going, I had a concern about how storytelling would be taught there, but the questions I got from students were very similar to what I'd hear in a cinema course at Point Park," said Johnson.
The Czech Republic has a very strong film industry, which is why students from around the world want to study in Prague.
"The country has one of the strongest domestic film industries in the world," Johnson said. "Go to countries like Germany, Australia or Chile, and at least seven or eight of the top 10 movies showing in that country are from the U.S., but the Czech audiences really support Czech films."
Johnson is now back in the U.S., but this is not the end of Point Park's presence in Prague. In June, Associate Professor Stephanie Mayer-Staley, head of design for COPA's theatre program, and five students will be traveling to the city for the Prague Quadrennial of Performance Design and Space, a theatrical design conference/festival. Lindsey Mayer, a Point Park junior, was selected to exhibit her set design for "An Enemy of the People," a class project, in the student section of the event.