more news
COPA students gain professional experience through summer jobs and internships
Wednesday, June 13, 2012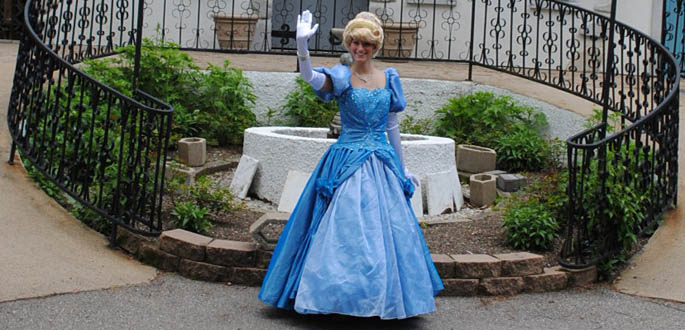 Katherine Bodner plays the role of Cinderella at Story Land Theme Park in Glen, N.H.

Point Park Conservatory of Performing Arts students are broadening their skills as they begin apprenticeships, internships and summer jobs. The following COPA students are working to gain hands-on experience and training related to their major:
Bodner said she feels blessed to have the opportunity as a student to work for a reputable company. "It's every girl's dream to be a princess. Children's theatre is so rewarding; it is so wonderful to have the opportunity to teach children valuable life lessons in a fun environment."
Kapeluck will be attending the Hubbard Street Summer Intensive for the third time. "I have been attending this intensive for the last two years and have enjoyed it immensely each time. I'm looking forward to taking technique classes and I know I will leave the program enriched and ready to begin a new semester at Point Park."
O'Neil found encouragement from faculty and staff in the Department of Cinema & Digital Arts. "I wouldn't have known about this internship opportunity without Professor Maitre's guidance and support. She helped me so much along the way. I'm so excited to live and work in the Big Apple this summer."
As for Nemec, working for the CLO is a dream come true. "I began going to CLO shows when I was a child. I received tickets to see Sally Struthers in Annie for my birthday, and that's what set me on the theatre path," he said. "This internship program has always been a dream for me and I'm very happy to say that I will get to work on Annie with Ms. Struthers, it's surreal and I couldn't be more excited. I couldn't have made it this far without the help from COPA faculty and staff."
Are you a COPA student working as an apprentice/intern or have a summer job related to your major? If so, email gpuppo@pointpark.edu with your name, major and employer information to share your experience for use on the Point Park website.
Photo provided by RWS and Associates