more news
Dance Building Named The George Rowland White Performance Center
Wednesday, October 24, 2012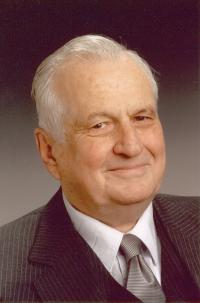 Point Park University announced yesterday during a private ceremony that the recently-constructed Dance building on the Boulevard of the Allies, which houses eight state-of-the-art dance studios, including the George Rowland White Performance Studio, has been officially named the George Rowland White Performance Center. The late George White and his wife, Kathleen, are long time benefactors to the University.
"To recognize George White's many years of service to Point Park as a trustee, to honor the vision he promoted for Point Park as a dynamic urban university, and in appreciation for his generous support of the University, the Board of Trustees voted to honor him by naming the Dance Complex the George Rowland White Performance Center," said Paul Hennigan, president of Point Park.
White was elected to the Point Park University Board of Trustees in 1995. During his tenure as a trustee, he served in leadership roles as chair of the Facilities Committee and was a long-standing member of the Academic Affairs Committee. White was a tireless advocate for Point Park's programs, students, and faculty.
The Whites contributed generously to the University by providing naming gifts for a performance studio in the Dance building, a theater in the University Center, and an endowed professorship in Urban Accounting and Finance.
White was a former Xerox executive with a Ph.D. in nuclear physics and served on the faculty of the Harvard School of Business. His wife, Kathleen, earned a math and science degree at Purdue University. She has also been elected to the Point Park University Board of Trustees.
Point Park's George Rowland White Performance Center is a $16 million facility that opened in 2007. It earned Leadership in Energy and Environmental Design (LEED) Gold, one of the elite levels of certification in the U.S. Green Building Council's building performance program and was the first building of its kind to receive that distinction. The 42,000-square-foot, state-of-the-art building contains rehearsal studios and performance space designed to meet the artistic, health and safety needs of students and the professionals who teach them.
Photo credit: Tom Bell