more news
Dance faculty member brings her outside experiences to classroom
Monday, December 12, 2011
Kiesha Lalama has recently choreographed works for dance companies, movie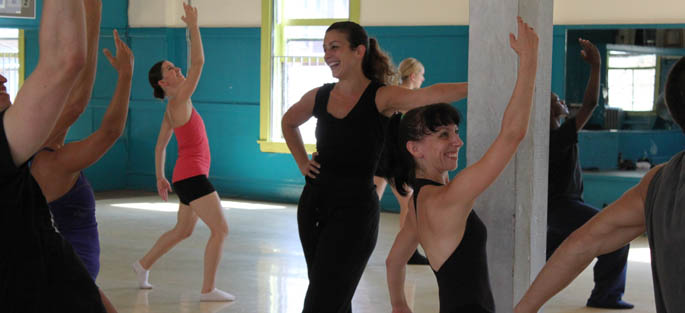 Over a four-month span, Kiesha Lalama, assistant professor of dance, has choreographed works for a movie, two well-known dance companies, the opening of Point Park's Urban Park, and the TEDx Pittsburgh conference.
"It's really nice to get out there," Lalama said. "I'm able to bring back what's happening currently in the industry and share that information with my students."
Lalama, who graduated from Point Park's dance program in 1995, teaches classes in the jazz concentration and choreographs student productions/concerts/exhibitions. She regularly teaches freshman dance courses, helping incoming students thrive and excel in Point Park's rigorous curriculum, as well as advanced upperclassman dance and choreography classes.
The Perks of Being a Wallflower
The movie The Perks of Being a Wallflower, starring Emma Watson and Ezra Miller, was filmed in Pittsburgh, and Lalama was asked to choreograph. Lalama's participation on the project also created the opportunity for several Point Park students to participate as extras in the film.
"Both Emma and Ezra were gracious and professional. I had a wonderful experience and enjoyed talking about it with my students," Lalama said. "I said to them, 'Work ethic matters, even when you are a successful movie star.' It was important for the students to learn that working, successful actors are still professional and kind."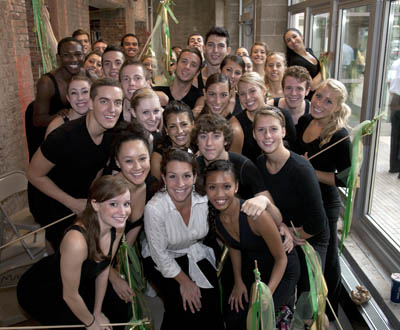 Kiesha Lalama, center, with her student dancers at the opening of Point Park's Urban Park at Academic Village. Lalama choreographed a piece to open the September ceremony.
Alegria for Giordano Jazz Dance Chicago
Lalama's piece for Giordano Jazz Dance Chicago included three Point Park alumni who are dancers at the company. Alegria opened Oct. 20 at the Harris Theater in Chicago to rave reviews.
"We've been building a great relationship with Giordano over the past several years," Lalama said. "Giordano is a good fit for our dancers. From the training they receive here to applying those skills in a professional dance realm, Giordano is a natural transition for some of them."
Chaos for TEDx Conference
Lalama's Chaos, which opened the TEDx conference at Nemacolin Woods Resort on Nov. 19, featured three Point Park dancers and two accompanists. Watch the video of the performance.
"This was probably the most challenging work I've ever done because it took on social and political issues. Through this experience and creative outlet, I gained the courage to use my true voice as an artist." Lalama said. "The theme of the conference was power. The purpose and message of the piece is to encourage change and take action."
Torque at August Wilson Center Dance Ensemble
The August Wilson Center Dance Ensemble features numerous Point Park alumni, including Nalia Ansari, James Washington, Annalee Traylor and Michael Bagne, who were the leads in Lalama's The Bench, which was staged in 2009 and 2010 by the Conservatory Dance Company.
"When I walked into August Wilson, I felt like I was home. It was familiar, so we were able to take that piece to the next level," she said. "I challenged them and they challenged me, and when you get into a situation like that, magic happens. It was a fantastic experience."
Torque will open March 9-10 at the Dynamic Women of Dance concert.
What's Next?
"There are great, wonderful things ahead," Lalama said, smiling. "I love my life."
Upcoming projects for her include choreographing Ruthless for Pittsburgh CLO Cabaret and a new dance work for the faculty dance concert. Lalama is also in the process of recreating The Bench for a professional production.
"I just hope that I leave my students with a sense of hope. I want them to know that they can accomplish anything and everything they set out to do. Anything is possible, you just have to believe."