more news
Dance major to compete for Miss America crown
Friday, July 23, 2010
Madison Tabet named Miss New Mexico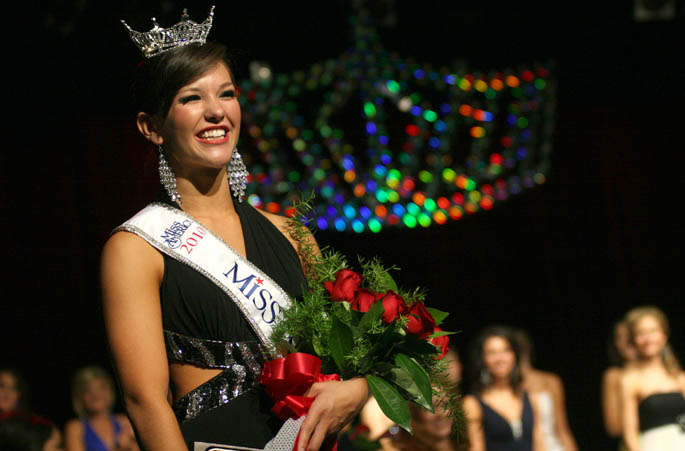 Point Park dance major Madison Tabet is crowned Miss New Mexico at the statewide pageant in June 2010.

After finishing freshman year this spring as a dance student at Point Park University, Madison Tabet returned to Albuquerque, New Mexico, knowing she had a busy summer ahead. It became even busier when Tabet won the Miss New Mexico pageant in late June. Now her days are filled with public appearances, visits to schools, personal training and preparing for the Miss America pageant in January.
"It's such an exciting time," says the 18 year old. Tabet credits her jazz dance performance during the talent competition with helping her to win the Miss New Mexico title.
Related links
Point Park dance program
Conservatory of Performing Arts
Admissions information
"She is one of the most amazing dancers I've ever seen," says Carol Henry, executive director of the Miss New Mexico Organization. "That's what our judges said about her, too."
Tabet earned a dance scholarship to Point Park University's Conservatory of Performing Arts following her performance at the Youth America Grand Prix student ballet competition in New York City.
This summer, she received additional funding for her education as a result of winning the Miss New Mexico pageant, in which she competed as Miss Bernalillo County.
The competition included presentations about issues important to each competitor. Tabet selected domestic violence. Now, as Miss New Mexico, she visits schools and shelters to discuss the issue, and she calls attention to it in the media.
"It is rewarding talking to people about this important topic," she says of her new role.
In her free time the new Miss New Mexico is preparing for the national competition. The pageant, which represents a lifelong dream for Tabet, will be held Jan. 15, 2011 in Las Vegas.
"I have one shot at becoming Miss America, so I am giving it my all," she says.
Photo by J.R. Oppenheim, courtesy of the Miss New Mexico Organization