more news
Dance professor embraces engaging artistic collaboration
Monday, April 12, 2010
Doug Bentz unveils 61st original work, Allegro Gypsioso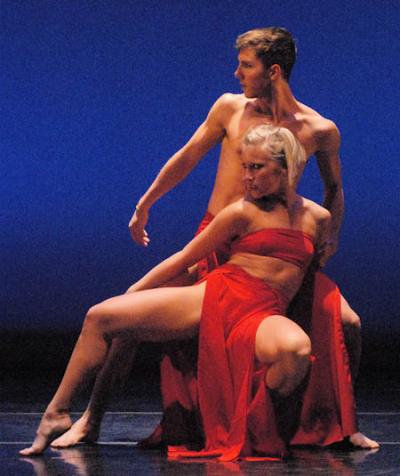 It's a great challenge for any dancer to perform a new work. And it's even more challenging to do so with live musicians. Doug Bentz, Conservatory dance faculty member, will be asking both his students in Pittsburgh and the students of his Ugandan residency program in May to perform with local artists as a way to incorporate local culture into his choreography.
The 13 Point Park University Conservatory dancers in Bentz's 61st original work, Allegro Gypsioso, will be dancing to pieces performed by the Gypsy Stringz, a local Gypsy quartet, at this spring's concert Dance with Me. Although the music is from the quartet's repertoire, it is being adapted for the piece and will vary each night due to the flexibility of live music and instrumental solos.
For this piece, as in many throughout the Conservatory's work, the students are being treated as a professional company meaning they must work hard, be responsible for the material and have a professional work ethic. In addition, the live music requires them to listen carefully to the accompaniment and adapt to what they hear.
"It's a great teaching tool," said Bentz.
The piece consists of three movements, all which have been inspired by the Gypsy culture and history and incorporate elements of Gypsy dance, such as arm and hand movements from Indian traditional dance and the flamenco.
"I've always been intrigued by the Gypsy and the history of the Gypsy," said Bentz.
Although it is not a literal or historical Gypsy work, the piece embodies the impression and feeling of this fascinating culture.
The first movement is a group number, with the sense of almost a "reverse curtain call," in which the dancers present themselves to the audience before joining in. The movement is similar to that of birds gathering in a public square, with two or three being added at a time.
The second movement is a duet. It begins with a stationary female solo, performed by Kailan Orn, as she is circled by her partner, Andy Wright. As the dance progresses, he begins to cut in to her dance and eventually the roles are reversed. Many of the motions in this section were inspired by traditional Indian dance and sculpture.
The final movement is a passionate coda performed by the group, with water-like, flowing imagery.
Throughout the process of choreographing this piece, Bentz has collaborated with the students to make the work more of a combined effort than one person's idea.
"It's my job to transfer the vision to the students, and excite and stimulate them into bringing it to life," said Bentz.
After this semester, Bentz will be travelling to Uganda for a residency from May 7-23. His residency is part of a program called Teach and Tour Sojourners, which encourages professors from developed countries all over the world to teach in underprivileged Ugandan universities.
Bentz plans on teaching the students contemporary American jazz dance, even though they may be business or engineering majors. He is also looking forward to the challenge and opportunity of working with local Ugandan musicians on this interesting collaboration.
Bentz's Allegro Gypsioso was one of five pieces performed at the Conservatory Dance Company's final concert of the season, Dance with Me, April 9-11 at Point Park University's Pittsburgh Playhouse. Bentz joined fellow Conservatory faculty members Nicolas Petrov, who presented the ballet Carmen; Ron Tassone, who presented the jazz/swing extravaganza Dance with Me; Judith Leifer, who presented the new modern work 9MIN; and Peter Merz, who presented the sultry ballet Fuga.