more news
Dance students create works for Student Choreography Project, Oct. 5-7
Friday, October 5, 2012
Starting Oct. 5, Point Park University's Conservatory of Performing Arts presents the annual Student Choreography Project concert, with 14 juniors and seniors from the dance program showcasing their abilities as choreographers for friends, families, professors, and the University community. They might even inspire a few people to take their dance career to places they never thought possible.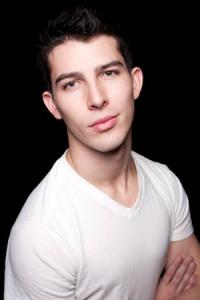 Oscar Carrillo
Oscar Carrillo is a junior dance major minoring in business. Along with friend and fellow dance major John Litzler, Carrillo choreographed a piece titled "Detached" that will open the concert. Carrillo describes his work, performed by 13 female and three male dancers, as a "contemporary and abstract representation" of feelings brought upon by good and bad responses in the human body.
"Dancing has always been a passion of mine, but choreographing goes beyond my ability to move the way I want or like. It allows me to see that movement on other people," said Carrillo.
Each year, faculty members from Point Park's dance program make sure only the best of the best make it to the stage for the concert. Once students have created their pieces, they must present their work to a panel of five judges from outside the University community.
Jane Vranish, dance critic for the Pittsburgh Post-Gazette, held one of the spots on this year's panel.
"A choreographer has to be able to communicate his or her thoughts to the dancers in a meaningful way," said Vranish. "It's a combination of talent and work ethic."
Through the real-world experience gained by choreographing for Student Choreography Project, Carrillo hopes to expand his resume, and in turn open doors for more opportunity throughout his dance career.
"Student Choreography Projects are a great way to give the dancer and the student choreographer an opportunity to practice the feeling of setting a piece in the real dance world," said Carrillo.
Learn More
Dance Program
Applying to the Conservatory
Request Info
Student Choreography Project is not the only opportunity in the department that helps dancers grow in their field. According to Carrillo, a range of opportunities at Point Park has pushed him towards goals far beyond his originally perceived ability. The faculty are great mentors for the students - not only by teaching and giving advice, but by paving paths that lead to new and different opportunities as well.
Vranish has worked with Point Park students in the past, and knows that she can always expect great things from students in the dance program.
"Point Park students always surprise me," said Vranish. "Student choreography on the whole has improved over the years -- a nod to the curriculum, teachers, mentors, and the students' abilities."
The Student Choreography Project offers afternoon and evening performances through Oct. 7 at Point Park's George Rowland White Performance Studio in the Dance Complex. For more performance details, times and ticket information, visit www.pittsburghplayhouse.com.
Article by Kayleigh Smith, public relations and advertising major