more news
Dance students to perform Martha Graham work in New York City
Tuesday, March 13, 2012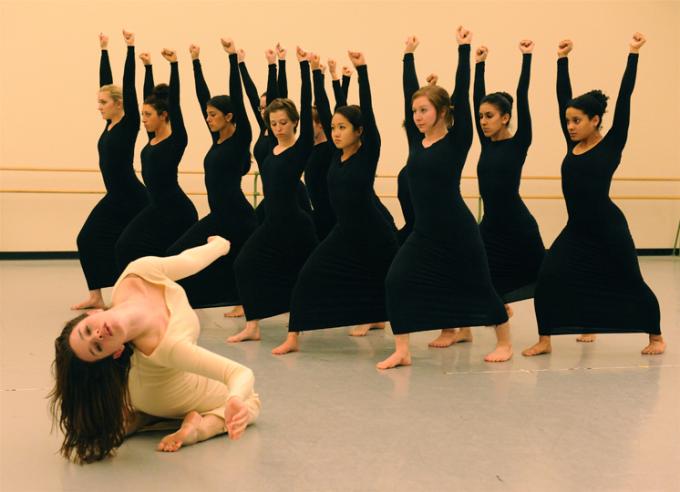 Point Park students will perform in 'Heretic' this week at the Joyce Theater in New York City. Here soloist Mikelle Rindflish rehearses the role originated by Martha Graham, a solitary figure outside a wall of disapproving others.
"This is a proud moment for Point Park," says Associate Professor Judith Leifer about the University performing a masterpiece of American dance, Martha Graham's Heretic, at the Joyce Theater in New York City this week.
Students in 'Heretic' at the Joyce Theater, NYC
Soloist (Graham's role):
Chorus:
Jenna Rae Smith
Rina Watanabe
Nicole Jones
Alyssa Taglia
Julia Galasti
Megan Meyer
Brittany McCarthy
Charlotte Ahlstrom
Teresa Montoya
Jennifer Florentino
Gabriella Sorrentino
Monique Delgado
Assistant Stage Manager:
Natalie Hratko (and performing in cast B at the Byham)
Point Park's Conservatory of Performing Arts is one of only seven national training programs invited to perform March 14 during a special University Partners event as part of the Martha Graham Dance Company's 86th anniversary season.
"For our students to be invited to and to perform a work of such stature reflects extremely well on Point Park's modern dance program. Our dancers are trained to be able to adapt to the rigors of the very specific style of this iconic work," says Leifer.
Heretic, which premiered in 1929, is being restaged and directed by Diane Gray. Leifer serves as rehearsal director. Music is arranged by Charles de Sivry ("Bretons Têtus" from Chansons de "La Fleur-de-Lys").
Reconstructed work notated at the University
In addition to performing the classic at one of nation's premier theaters for dance, Point Park students have the honor of playing a key role in notation of the work by the Dance Notation Bureau, says Leifer.
The national Dance Notation Bureau advances the art of dance by creating dance scores, which function for dance much the same way music scores function for music. Using a symbol system called Labanotation, a notation expert creates a dance score that allows a dance to be performed long after the lifetime of a choreographer and artist such as Martha Graham.
Notator Sandra Aberkalns spent a week at Point Park in January 2012 taking copious notes on every aspect of the reconstructed Heretic. She was accompanied by Gray, who restaged and directed the work based on meticulous research, including a rare 1929 film of Martha Graham performing Heretic.
"Heretic holds a pivotal position in the development of Graham's body of work," says Leifer. "It is essential for our dancers to experience the raw directness of Graham's early developing vocabulary and choreography as the power of the work is in its simplicity.
"The dancers are experiencing the intensity of recreating a work such as Heretic, having the experience of building the dance through the reconstruction and rehearsal process, and to then use that preparation to embody the work through performing it."
Byham concert to feature 'Heretic'
Point Park's Conservatory Dance Company will also perform Heretic as part of its annual concert at the Byham Theater April 19-21, 2012. A second cast will present the work at the Byham.
Gray will return to Point Park University in April to oversee technical rehearsals for the Byham concert. The restager will also present an intimate lecture about Heretic for Conservatory students and the University community.
A number of Point Park students cast in the Joyce Theatre performance are videotaping the trip. Watch for their personal stories and details about Diane Gray's upcoming lecture. Visit and "like" www.facebook.com/pointparkdance.