more news
Dark of the Moon Rises on the Pittsburgh Playhouse Stage April 13 - 22
Friday, April 13, 2012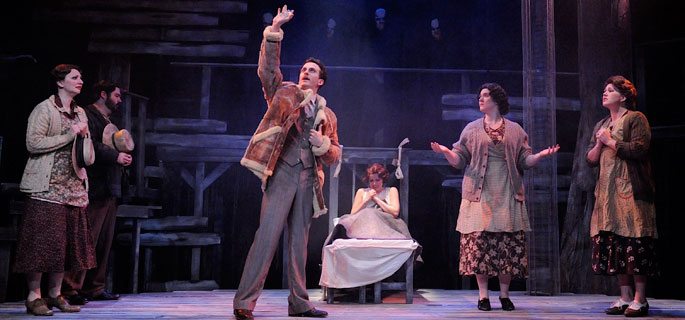 Point Park students make up the cast and crew of Dark of the Moon, on stage at the Pittsburgh Playhouse.
Point Park University's Conservatory Theatre Company presents its closing production of the season, Dark of the Moon, directed by Jack Allison, April 13 - 22, 2012.
A controversial, supernatural love story written by Howard Richardson and William Berney, Dark of the Moon tells the tale of witch-boy John falling in love with beautiful mortal, Barbara. The supernatural existence known by John and the god-fearing mountain folk surrounding Barbara clash in a dramatic, powerful way, making the play one of the most haunting, tragic tales ever to grace the Playhouse stage.
Jaron Frand, senior musical theatre major playing John, sees the story as a revamped version of the classic Romeo and Juliet, "Two passionate lovers from different backgrounds and worlds somehow are drawn to each other. But just as easily, they are pulled away from each other again by their existing communities, witches vs. humans. It's a spooky show. It's a risky show. But it has a lot of heart and passion in it."
Dark of the Moon runs from April 13 - 22, Thursday through Saturday at 8 p.m. and Saturday and Sunday at 2 p.m. Tickets range in price from $18 to $20 and can be purchased by calling the Pittsburgh Playhouse box office at 412-392-8000 or online at www.pittsburghplayhouse.com. Student tickets are available for $7 - $8; group and senior discounts are also available.
Article by Kayleigh Smith, sophomore public relations major
Click photo for more pictures from the show.