more news
Entire Cast of Pittsburgh CLO's 'Altar Boyz' Features Point Park Students and Alumni
Tuesday, November 10, 2015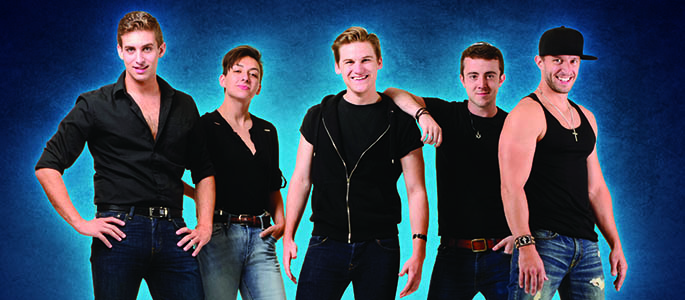 (L-R) Javier Manente, Mason Alexander Park, Michael James Brown, Carter Ellis and Michael Greer
Two Point Park students and three alumni make up the entire cast of the Pittsburgh CLO Cabaret's production of ALTAR BOYZ, through Jan. 10. Below, the Conservatory of Performing Arts students and alumni discuss how their training and experience prepared them to take on their roles as Matthew, Mark, Luke, Juan and Abraham.
Photo Gallery
---
Learn More
What's it like performing at the Pittsburgh CLO?
After finishing four years of training just down the street at Point Park, this show is a special way to close this chapter of my life. Pittsburgh has always been a home away from home and, now that I've moved to New York, it's a great send off to the many memories I have made here. - Michael James Brown (Matthew), B.F.A. in musical theatre, 2015
What's it like sharing the stage with alumni and another student?
Working with Point Park alumni and another current student is a dream come true. Knowing that I not only have a strong support system with the CLO team, but also with each of my cast members, is something I am so grateful for. Everyone in the show is so talented and willing to take on fun risks during the process. Even in our first rehearsal I knew we were all involved in something very special. - Mason Alexander Park (Mark), a junior B.A. in theatre major
How did your Point Park training and experience prepare you for your career?
Due to the training I received at Point Park, I feel as if I can walk into an audition, or any rehearsal process, and am completely confident with my work! Thanks to Point Park, and a lot of hard work, I have been very fortunate to work consistently in this business since I graduated. - Michael Greer (Luke), B.A. in theatre, 2005
I feel like the training in the Conservatory of Performing Arts prepared me artistically, personally and professionally. Point Park is such an important part of my life. I am who I am today thanks to the faculty and friends I've made here. Every day I apply my training - from the very first audition to the very last performance. - Javier Manente (Juan), a senior B.F.A in musical theatre major
What advice would you give prospective students?
My main advice would be to do absolutely anything you want. Many students make the mistake of putting themselves into an imaginary bubble. Freedom to try something totally outrageous and fun, even if your friends aren't doing it, is one of the greatest gifts college can give you. If you want something, go for it! - Carter Ellis (Abraham), B.A. in theatre, 2015
In the News
"Stage review: When it comes to praise for 'ALTAR BOYZ,' raise it," Pittsburgh Post-Gazette, Oct. 7, 2015.
"Good fun at heart of boy-band spoof 'ALTAR BOYZ,'" Pittsburgh Tribune-Review, Sept. 25, 2015.
"Meet CLO Cabaret's ALTAR BOYZ," Pittsburgh Post-Gazette, Sept. 23, 2015.
Article by Kristopher Chandler, a freshman screenwriting major
More About: Pittsburgh Playhouse, musical theatre, theatre, alumni, success story, Downtown Pittsburgh, acting, Conservatory of Performing Arts